Tropical Storm Hermine 2016 update: Path and expected rainfall as Florida braces for hit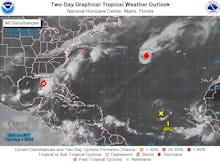 Florida has had 11 straight years of quiet hurricane seasons, but that might be about to change.
Tropical Storm Hermine is barreling toward the Gulf Coast of Florida. According to Weather.com, Hermine is expected to make landfall late Thursday night or early Friday morning as a Category 1 hurricane. NBC reported that Hermine could bring 15 inches of rain and 9 feet of storm surge, but residents should keep an eye on the latest storm updates and predictions.
The graphic in the tweet below shows Hermine's latest projected path:
The National Hurricane Center created a graphic showing areas that could get hit with storm surge:
Hurricane warnings have been issued for north Florida, according to Weather.com, which means those areas could experience hurricane-force winds upward of 74 miles per hour. Tropical storm warnings were issued for parts of southeast Florida up through South Carolina, which means those areas could experience winds at 39 miles per hour or more. 
The National Hurricane Center is updating the position of the storm every few hours.