SpaceX rocket explosion at Cape Canaveral, Florida: Photos show aftermath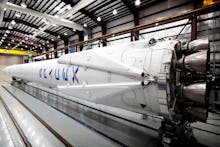 A unmanned SpaceX Falcon 9 rocket has exploded on the launch pad in Cape Canaveral, Florida. The explosion happened during a test firing, NASA told the Associated Press. The launch pad was cleared at the time of the explosion and there were no injuries, according to SpaceX.
Images and video from the scene show a thick plume of smoke rising from the launch pad after the explosion:
Local news station WFTV Channel 9 is broadcasting live from the scene: 
The rocket was meant to launch on Saturday, Sept. 3, carrying Facebook's first communication satellite to bring better internet access to Africa. The engine test fire was part of standard preparation for the launch.
SpaceX has confirmed that both the rocket and the $200 million satellite were destroyed in the explosion:
The force of the explosion reportedly shook nearby buildings:
Sept. 1, 2016. 10:25 a.m.: This story has been updated.