7 shockingly good food deals you can score at TJ Maxx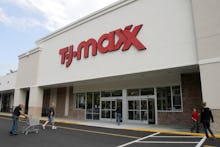 Push past the discounted luggage and handbags, the jumble of beauty products boasting serious price reductions and the seemingly endless racks and shelves of clothing and shoes at any T.J. Maxx and you'll get to the real treasures: The food. 
Shelves lined with sweets and more sweets and spices upon spices and uniquely shaped pastas and delicacies with names like Zombie Sauce and Swirly Coconut Treats make this Maxx Gourmet section of the discount store so much better than your typical grocery shop. 
A Maxxinista-in-training, I visited two TJ Maxx stores (they all have different inventory/loot!), one in Dickson City, PA and another on 59th Street in Manhattan, to see what edible treasures I could find. Here are the best of them.
1. Sabatino Pronto Fine Italian Cuisine Truffled Risotto: $3.99 (Compare at $7)
Not only was this risotto mix a legitimate bargain, I'd also never seen it before at a New York grocery store. Having made risotto from scratch just the night before, I was eager to purchase a shortcut — especially when that shortcut had dehydrated black truffle in it ... last ingredient, but still.
2. Festa Italiana Harvest Pasta: $4.99 (Compare at $8)
Not only was this pound of multi-colored, leaf and grape bunch shaped pasta a deal, it was also an item I'd never seen before which made it much more exciting. Plus, the made-in-Italy import came with a recipe for garlic, tomato and basil pasta on the back, 
3. Dave's Gourmet All Natural Butternut Squash Sauce: $4.79 (Compare at $5.99) 
While this wasn't a huge savings, it was the last jar of sauce left on the shelf. Plus, it would go pretty well with the harvest pasta. 
4. Porcini Mushroom Egg Noodles: $2.99 (Compare at $5)
A legitimate deal, these egg noodles were part of a whole collection of flavored noodles at TJ Maxx. Like a true Maxxinista, I chose the porcini pasta, because they were all priced $2.99 and porcini was the most expensive ingredient. Also, it's delicious. 
5. Francesca Di Monte Pesto: $3.99 (Compare at $5) 
While this was pricier than Trader Joe's pesto ($1.99, I think), it looked fancier and therefore was a better deal. It was also super garlicky and delicious and made a really great vinaigrette — blend with white wine vinegar, lemon juice, olive oil. Eating it at home tasted like eating in a restaurant, so not going out and eating moderately priced pesto was definitely a money saver. 
6. Sweetie Pie Ground Coffee Pumpkin Pie Flavor: $3.99 (Compare at $7)
Choosing between no fewer than seven different pumpkin-flavored ground coffees at New York's TJ Maxx was no easy feat. All were appealing and all cost less than a Pumpkin Spice Latte for an entire bag of coffee. I choose this one because A) It was the cheapest B) The package was the most appealing C) It had a little sniffing hole where I could verify that this coffee indeed smelled a lot like pumpkin pie. Good morning to me. 
7. Breaking News Himalayan Pink Salt Lentil Chips: $2.79 (Compare at $3.50)
While these seemed kind of expensive for chips, they were made from lentils, which are objectively healthier than potatoes, and therefore worth the investment. Plus, who knows if I'd ever see these newspaper-themed chips anywhere else! In addition to two Onion-style articles on the back, the vegan, Kosher and Halal chips seemed pretty inclusive and I wanted to support their journalistic mission.