'Big Brother 18' recap: Was Michelle or Paul sent packing?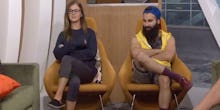 On Wednesday night's installment of Big Brother, HOH Nicole won the Power of Veto and kept the houseguests she had nominated, Michelle and Paul, on the block. 
Thursday's episode picks up right where we last left the contestants: the veto ceremony. While Nicole is still debating whether she wants to align herself with Victor and Paul or Natalie and James, nominees Paul and Michelle realize that this is truly Nicole's decision and that they have no idea what is going to happen. 
Natalie and James are voting to evict Paul and Victor is likely voting to evict Michelle. If Nicole wants Michelle out, Corey can vote to evict Michelle, making it a tie and causing Nicole to choose who is eliminated. Or, if Corey and Nicole side with James and Natalie, Corey can vote to evict Paul, making the vote 3-1. 
Corey's $5,000 America's care package bribe
On Sunday's episode, Corey was given $5,000 to bribe someone in the house to do something in exchange for the cash. James tells Corey that he should give him the money to throw this week's HOH competition.
But after seeing Michelle and Victor speaking, Nicole becomes suspicious. "I'll be so mad if Paul goes home," Nicole says to Corey. "What if they have Victor on their side. He's been evicted twice what does he have to lose." 
Corey decides to give Victor the money if he promises to vote out Michelle. "You're going to make me cry man," Victor says. Paul adds: "Mucho Friendship move."
Live eviction
After seeing videos from their families and a segment about Victor's hometown, it's time for the live eviction. In Michelle's speech before the vote, she threatens the houseguests saying if they evict her then she will cry and Julie and the audience will have to deal with it. "Do you want to do that to poor Julie? Lets be honest." 
She also says that if she is kept in the house, she will go after Victor because Victor and Paul are going to go all the way to the top two. With a 2-2 vote, Nicole is forced to break the tie. 
She casts her vote to evict Michelle, but Michelle doesn't leave quietly. She yells at the houseguests to get out Nicole. "Get [Nicole] out as soon as you can, she is just floating her way to final two." She also stole Paul's float Pablo and screamed her cousin-in-law is Dan Gheesling, a Big Brother alum who won the 10th season and was runner-up in the 14th season. 
Head of Household
Contestants have to maneuver eggs through chicken wire and roll it down a ramp to knock down three targets that spell HOH. 
Fans will see who won the competition, and who is nominated, on the next episode of Big Brother, which airs Sunday at 8 p.m. Eastern on CBS.