Colin Kaepernick's Afro sparks #KapSoBlack — and Black Twitter reminds us how great it is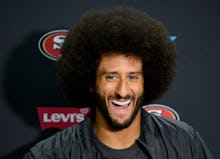 San Francisco 49ers quarterback Colin Kaepernick continued his anti-police brutality protest of the national anthem by kneeling during "The Star-Spangled Banner" at Thursday night's preseason game against the San Diego Chargers.
But Kaepernick's demonstration wasn't what sparked a conversation after the game — his Afro did.
Cameras caught the kneeling Kaepernick sporting a large, '70s-style hairdo. And Black Twitter responded in kind with the hashtag, #KapSoBlack. It was among the top Twitter trends on Friday morning, amounting to both a celebration of the footballer's hair and a tongue-in-cheek hat tip to his being "woke" and embracing black culture.
Last week, Kaepernick became a national topic of discussion because of his decision to sit down during the national anthem, as a statement about police brutality and other inequities experienced by black people and other people of color. Beyond his protest, it hadn't been clear what exactly Kaepernick was doing to affect change in communities of color — that is, until after the game.
"I'm currently working with organizations to be involved, and making sure that I'm actively in these communities," Kaepernick said in a post-game press conference. He announced that he will donate the first $1 million he earns in 2016 to the unnamed organizations.
He is also reportedly working with New York City radio personality Nessa to donate $60,000 worth of backpacks to students in Harlem and the South Bronx.
But judging by the Twitter reactions to Kaepernick, his financial commitment to community organizing was not that interesting.
There were some Twitter users who saw the hoopla as an opportunity to make additional racially insensitive points about the biracial 28-year-old, much like the comments and insults made after Kaepernick's protest first made national headlines on Aug. 26.
Kaepernick also took notice of the hashtag Thursday night — he corrected those who were tweeting "Kaep" instead of "Kap."
Watch Kaepernick address reporters after the game: