Air China is telling travelers to avoid London's Indian, Pakistani and black neighborhoods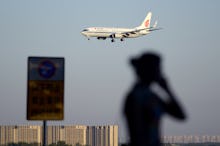 London can be an exciting place to visit — just be sure not to stumble into an ethnic ghetto. That's the advice being passed down from Air China to its passengers lucky enough to page through an issue of in-flight magazine Wings of China.
"London is generally a safe place to travel, however precautions are needed when entering areas mainly populated by Indians, Pakistanis and black people," the article reads, according to an image tweeted by Chinese journalist Haze Fan.
Writing in both Mandarin and English, the magazine goes on: "We advise tourists not to go out alone at night, and females always to be accompanied by another person when traveling."
Fan tagged Sadiq Khan, London's first-ever Muslim mayor, in her tweet. But he had yet to respond on his own Twitter account on Wednesday.
It's unclear what information or statistics the authors of the excerpt have based such patently bigoted advice on. It's also not clear why South Asians, Arabs and blacks were singled out. London is a famously multicultural international city, with a population that is approximately 40% nonwhite.
Air China did not immediately respond to Mic's request for comment Wednesday.
MP Rosen Allin-Khan, an MP who represents Tooting, one of the city's largest Indian and Pakistani communities, told the Evening Standard the airline's advice is "outrageous."
"I think it is offensive to all Londoners, not just the ethnic minorities mentioned," Allin-Khan said. "We pride ourselves on having a wonderfully diverse community, and this may mean people come here with a different idea, it is worrying that some may arrive concerned."
A spokesman for Hope Not Hate, a Wembley-based civil rights group, told the Standard that, if the magazine clipping is authentic, it "should be removed immediately."
"Londoners deserve an apology," the spokesman added.