'Big Brother 18': Natalie throws James under the bus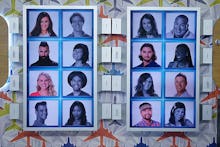 On Sunday's episode of Big Brother, Victor won the Head of Household competition and nominated James and Natalie for eviction. Victor made it very clear to the rest of the contestants that he wants James out and that Natalie is simply a pawn. But things always seem to somehow go askew in the Big Brother house. 
Wednesday night's episode picks up right where we left off on Sunday: the nomination ceremony. Although she isn't the target, Natalie isn't happy this week because James is her "rock." "I can't imagine playing this game without him," she says in the diary room. "It breaks my heart." 
After James tells the viewers that he or Natalie has to win the power of veto this week, Nicole is seen crying in the diary room explaining how she feels bad because James doesn't deserve to be nominated. "I'm not happy he's on the block," she says in the diary room. "I'm just happy it isn't me and Corey." 
Paul then catches Natalie saying that she kind of likes being on the block next to James and runs to Nicole, Corey and Victor to tell them what he just heard. Victor reiterates that just because he told Natalie she was the pawn, doesn't mean she is safe this week. 
Now that she and James are at risk of leaving the house, Natalie tells James that they should've stayed with Victor and Paul instead of teaming up with Nicole and Corey and voting out Victor a few weeks back. "I just knew not to trust them," Natalie says. "I'm kind of kicking myself in the butt. Paul and Victor trusted us." 
She decides to go to Paul and Victor and apologize for trusting James' opinions. "At least wait for the veto before you shit on this guy," Paul says to Nicole, Corey and Victor when he tells them what Natalie had just said. "Let's send her ass home," Corey says. 
Power of veto competition
In this week's competition, "Take a Crack at Being Mac," the contestants are called into the backyard one by one, where they need to figure out how to escape three different rooms. The player that escapes in the shortest amount of time wins the veto. 
Natalie goes first and finishes in a little over nine minutes. She goes to sit in a room where she is able to watch the rest of the contestants compete and try and beat her time to take the veto away from her. Corey ends up winning the power of veto. 
Nomination ceremony
When Nicole, Victor, Corey and Paul sit down to discuss who should be sent packing, they seem unsure of who the best choice is. "James definitely started out as my target this week," Victor says in the diary room. "But Natalie's recent game play is making me rethink." 
Prior to the nomination ceremony, Natalie tells James that if he works with Nicole and Corey once (or if) she is evicted, she won't ever talk to him again. "I am not going to respect that game," she says. 
But their tension doesn't end there. Paul and Victor decide to tell James that Natalie was "trying to point guns certain ways" by saying she had taken bad advice from James and regretted it. This causes James to reconsider telling everyone to evict him instead of Natalie. 
At the veto meeting, Corey decides not to use the power of veto, leaving James and Natalie up for eviction.
Fans will see which member of #Jatalie goes home on the next live eviction episode of Big Brother, which airs Thursday at 9 p.m. Eastern on CBS.