Harnaam Kaur now holds the Guinness World Record for youngest woman with a beard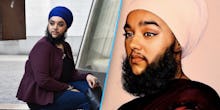 In February, Harnaam Kaur became the first female with a beard to walk the runway during London Fashion Week. And now, a few months later, the model and body-positive activist has earned herself another accolade: a spot in the 2017 Guinness Book of World Records. 
Kaur, who began growing a beard when she was 11 years old as a result of a hormonal disorder called polycystic ovary syndrome, now holds the record for being the youngest female with a full beard. According to the Telegraph, Kaur was 24 years and 282 days old when she was "confirmed" to have a full beard on Sept. 7, 2015. 
"I have been wanting to publish this news for absolutely ages, but I had to keep things under wrap until the booked launched (today)," she wrote on Instagram Thursday. "I am super proud to hold this record... It is amazing to be valued and celebrated being a Bearded Lady."
She continued, "I hope those who read or see my record can take away positivity, inspiration and realize that no matter who you are or what you look like, you are officially amazing." 
Kaur has previously written about the bullying she has experienced because of her disorder. "I always wanted to be like the pretty models, so I remember copying the way they posed and walked," she said in February about walking the runway at fashion week. "I grew up being told I was too fat, ugly and disgusting to even model ... I was laughed at when I said I wanted to model." 
Society in general, in addition to the fashion and beauty industry, seems to believe that women's body hair should be waxed, plucked, shaved and just completely nonexistent whatsoever. After all, you never see an inch of it in any advertisements, campaigns or editorials. There isn't even any hair being shaved in razor commercials.
But that is slowly changing in mainstream media. Women are showing off their armpit, leg and pubic hair. And clearly Kaur is leading the charge for beards as well, something that many have congratulated and thanked her for. 
"GO GIRL!!!!! So good to see you're still breaking glass ceilings, one after another," one wrote on Instagram. Another user commented: "You are an inspiration. I use to feel so alone and ugly, not accepting my PCOS. But, since I've discovered you and all of the work you've done in the community you have helped empower me and have pushed me to reach out and help inform others about PCOS."
As she wrote back in February, "Joke's on my bullies." And now joke's on them again, because she's now a world record holder — but more importantly, she's an inspiration to many.