Young Thug's wedding will be a big f*ck you to traditional gender norms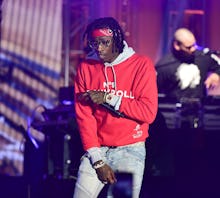 Gender-bending rapper Young Thug is putting his middle finger up to traditions that dictate what men and women should wear when they get married. Instead of a black tuxedo, he plans to match the bride and show up to his wedding in a dress. 
"There will be two brides," he told Billboard of his nuptials to swimwear designer Jerrika Karlae. "When it comes to swag, there's no gender involved." 
He continued, "When I was 12, my feet were so small I wore my sisters' glitter shoes ... But I never gave a f— what people think."
Need further proof? Just two weeks ago, Young Thug appeared in a ruffled Alessandro Trincone dress on the cover of his mixtape "Jeffery." 
And this wasn't the first time he's challenged gender norms and spoken out about wearing women's clothing. In July, he appeared in a Calvin Klein campaign video where he explained how he believes there is no such thing as gender.
"In my world, of course it don't matter," he said. "You could be a gangster with a dress or you could be a gangster with baggy pants." 
Perhaps the sight of Young Thug in a gown on an album cover or at his wedding, in addition to images of influencers like Jaden Smith and Kanye West in skirts, will continue to help normalize men in women's clothing. 
His lyrics might be controversial at times, but one thing's for sure — he looks damn good in a dress.