Black Lives Matter is evolving and some early supporters aren't too thrilled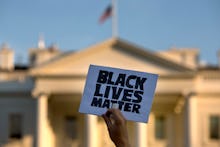 Rashad Turner, a Minnesota public school educator-turned-activist, was inspired to start a chapter of Black Lives Matter in St. Paul, Minnesota, after meeting other activists from a Minneapolis group in Selma, Alabama. Civil rights leaders from around the country – along with elected officials, former President George W. Bush and President Barack Obama – gathered there in March 2015 to mark the 50th anniversary of the historic march for voting rights known as Bloody Sunday.
"For me, it was one of those things that gave me a nudge," Turner said. "I knew I could be doing more."
He became the leader of an unofficial chapter of the BLM network – that is, one not registered on a roster of 42 chapters, including a handful overseas. In a recent interview, Turner said he decided the chapter should remain unofficial because of his concerns early on about who was running and funding BLM at a national level. But he also set his concerns aside for a larger purpose.
"The main goal [of forming a chapter] was to be able to focus on all the issues that existed in St. Paul," Turner said. "To really focus on black lives, black minds and black jobs."
The BLM network is becoming more transparent about its structure, aligning with traditional civil rights organizations like the NAACP on issues such as charter schools, and plans to present its policy platform on Capitol Hill. But Turner has re-evaluated his support for the organization and resigned his leadership role in St. Paul. His announcement last Wednesday, which drew some national media coverage, reflects an undercurrent of criticism among would-be supporters that the movement is somehow shedding its grassroots grit. However, a spokeswoman for the BLM network said critics are too often "anchored in what they think they know" and fail to see a variety of tactics and structures as a positive for the increasingly broad movement.
"The fact is, we all want to see people with decision-making power take immediate action to end the pervasive violence against black people that is legitimized by the state," Shanelle Matthews, communications director for the Black Lives Matter Global Network, said in a statement to Mic on Friday. "To get the attention of [decision makers] and create space for empathy and real change, we must take a variety of approaches."
The statement continues: 
"Atop many others, one undue burden for black organizers is to repeat over and over again that we are not all the same. We are not the same ... but we each bring unique contributions that are necessary and critical to realizing a world where Black people live free of state violence and police terror."
BLM has formalized its partnership with International Development Exchange, a San Francisco-based charity that received about $2 million grants and tax-deductible donations in the fiscal year ending June 2015, the Associated Press reported last Tuesday. It's unclear how much of that was received on BLM's behalf. In a statement to the AP, BLM co-founder Alicia Garza said partnering with the charity "can support us as we build these connections on a global scale."
In 2013, BLM gained national prominence after activists popularized "black lives matter" as a slogan, following the acquittal of George Zimmerman on murder and manslaughter charges over the shooting death of unarmed black teen Trayvon Martin in Sanford, Florida. Activists' blunt and unapologetic condemnation of state-sanctioned violence was amplified by subsequent flashpoints – the police-involved deaths of Michael Brown in Ferguson, Missouri, Eric Garner in New York City, Freddie Gray in Baltimore and several others. The cases resulted in no criminal charges against officers or the exoneration of officers in court.
BLM grew larger and became more complex, even as a reputedly leaderless entity. The Movement for Black Lives emerged as an affiliated collective of over 50 organizations, to develop a multi-pronged policy platform that takes aim at state-sanctioned violence against African-Americans, black immigrants and black LGBTQ people. The platform, referred to as "A Vision for Black Lives," was released on Aug. 1.
"Atop many others, one undue burden for black organizers is to repeat over and over again that we are not all the same."
The platform's call for a moratorium on charter schools – activists have joined with the NAACP to denounce them for diverting taxpayer dollars from crumbling public schools in black communities – set Turner off. Having taught for five years in Minnesota's public school systems, he said the charter schools criticism is misleading and shows the larger group as ill-informed.
"To me the moratorium was that last sign that I needed to step away from BLM," said Turner, who supports privately run charter schools as choice for black families seeking alternatives to failing or inadequate district-run schools. With the moratorium, "they've become a tool of the oppressor rather than [a group] who is going to help us remove ourselves from that oppression," he added.
The charter schools issue isn't the only part of the platform that has drawn criticism in recent weeks. Activists have called for cuts in U.S. defense spending that fuel the Israeli-Palestinian conflict, charging that American leaders have been "complicit in the genocide taking place against the Palestinian people."
The Jewish community has debated whether to oppose the platform over its language on Palestine. In a statement of the International Fellowship of Christians and Jews, several black faith leaders denounced the platform as a "vitriolic attack against Israel laced with misinformation and anti-Semitism and an agenda that is not embraced by the broader African-American community."
But that condemnation isn't as widespread as some might believe. Last week, the Rev. William Barber II gathered with prominent Christian, Jewish and Muslim faith leaders in New York City to condemn racist and xenophobic rhetoric in the 2016 presidential election. Barber, a prominent civil rights leader who has been on the front lines of voting rights battles in North Carolina, told Mic that the Movement for Black Lives platform is a reflection of positive growth and experience among millennial activists.
"That was Black Lives Matter putting out a conversation based on them traveling the world and looking at similar situations," Barber said in a Sept. 1 interview. "There are those who understand that you can love the Palestinian child and the Jewish child. I'm glad to see young people that are engaged and involved [on that issue.]"
Tuesday, the Black Youth Project 100, a group that endorses the BLM policy platform, is expected to lead the movement's first-ever lobbying day on Capitol Hill. Janae Bonsu, BYP100's national public policy chair, said activists will meet with members of Congress to discuss the Vision for Black Lives platform and proposed legislation that supports or conflicts with their policy proposals.
"We're using the platform as the foundation of our advocacy, to start building relationships and have more consistent dialogue and interface with grassroots movements and lawmakers," Bonsu said in a phone interview.
Bonsu also said the lobbying day should not be interpreted as BLM activists abandoning their protests. "We are not ending or shifting our focus to lobbying on Capitol Hill or to more traditional means of advocacy," she said. "This is a both/and, not an either/or. We strongly believe in the power of grassroots mobilizing and we will never stop doing that."
Elected officials need to see "that young black people are not politically apathetic," Bonsu added. "We can't trust members of congress and other lawmakers to just know what we need — we have to tell them. We have to take it to their door. They are public servants."
BLM should be applauded for helping to start a long-overdue national conversation about race and policing, said Turner, the Minnesota activist. He cited San Francisco 49ers quarterback Colin Kaepernick's protest of the national anthem as having clearly been influenced by the movement. But that accomplishment isn't enough to resolve his concerns that BLM should do more to address concerns about its structure, platform and tactics.
"For me, I want to keep it real," Turner said. "If I'm saying it, I want it to be the truth and not to be a dog and pony show."
Sept. 13, 2016, 11:30 a.m.: This story has been updated.