World Vegetarian Day 2016: 12 veggie burger recipes that even carnivores will love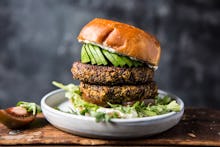 Veggie burgers get a bad rap. The ever less-exciting meat-free alternative to a tasty hamburger is often seen as a vegetarian's last resort at a barbecue before throwing a zucchini spear in a hot dog bun and calling it dinner. 
But there's finally a light at the end of the vegetarian tunnel. As chefs have embraced locavorism and veggie-forward dining, the veggie burger has reached a new, tasty status. 
"After decades as an amateur player eager for a big break, the veggie burger has made its ascent, becoming a destination dish and hashtag darling as never before," the New York Times reported in August. 
The average fast-food burger without toppings clocks in at 354 calories, 17 grams of fat and 20 grams of protein and is pretty much devoid of vitamins, making a veggie burger, which has an average of 124 calories, 4 grams of fat and a slew of options to add protein, fiber and other vitamins a clearly more healthful choice than your traditional beef patty. As veggie burgers become a go-to for even meat-loving diners, it's time to learn to make one that doesn't taste like a hockey puck. Without further adieu...
1. Spicy cauliflower burger
A quinoa-cauliflower-cheese blend makes for a tasty patty, especially with the added crunch of ground almonds. One serving of this green-sauce topped burger is 199 calories with 10.6 grams of fat, 8.4 grams of protein and significant amounts of fiber, calcium, iron and Vitamin C. Get the recipe here.
2. Portobello mushroom burger
It's the oldest trick in the vegetarian book to substitute a vegetable for a piece of meat, but this charred portobello actually works on a burger instead of a delicious beef patty. Get the recipe here.
3. Grillable veggie burger
If your veggie sensibilities make you feel left out at a cookout, whip up these grillable veggie patties that hold their own on a hot grill. At 392 calories, 16.3 grams of fat and 13.6 grams of protein, these vegan burgers are similar nutritionally to a fast-food burger, but fiber and vitamins from the brown rice and veggies are still beneficial. Get the recipe here.
4. Quinoa burger
Black quinoa and black beans make a sturdy, protein-packed burger patty that can be griddled to perfection in a cinch. Get the recipe here.
5. Roasted zucchini burgers with garlic whipped feta
Oven-roasted zucchini and summer squash in this patty add a serious flavor boost to the traditionally bland veggie burger. The whipped feta spread adds another level of freshness to this already delicious burger. Get the recipe here.
6. Thai sweet potato veggie burgers with spicy peanut sauce
Skip the chicken satay and go for this all-veggie sandwich topped with homemade peanut sauce. Get the recipe here.
7. Lentil chickpea veggie burgers with avocado green harissa
Lentils and chickpeas unite in protein power to create this tasty veggie burger to be skillet fried. Get the recipe here.
8. Veggie burger with brown rice, oats and nuts
Similar to your traditional veggie burger patty, this homemade version is much more moist and can be seasoned to your liking. Get the recipe here.
9. The beet burger
If you like your beef burgers bleeding, consider the beet, which oozes a satisfying redness in each meat-free bite. Get the recipe here.
10. Turnip burgers
Turn this oft-ignored root vegetable into a tasty burger blended with garlic and scallions for flavor in every bite. Get the recipe here.
11. Mango chili tofu burgers with cashew crema
The iconic source of vegetarian sustenance, tofu, gets a spicy makeover in this grilled veggie burger sandwich. Get the recipe here.
12. Indian spiced black bean and tofu burgers
If tofu slabs aren't your thing, try this recipe using soft tofu that blends in with the bean and veggie mixture for a spicy meat-like burger. Get the recipe here.