Christian Siriano's NYFW runway was a gorgeous spectrum of many shapes, sizes and colors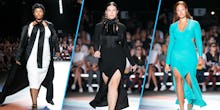 Since the launch of his eponymous brand in 2008, Christian Siriano has made a point of dressing women of all shapes and sizes. But it wasn't until he created a beautiful red gown for Leslie Jones in July that he started to get the recognition he deserved as a true champion for diversity.
And on Saturday, the 30-year-old designer took his inclusive mission one step further, doing something that is rarely done on the New York Fashion Week runway: He cast five plus-size models for his Capri-themed fashion show.
Marquita Pring, Alessandra Lorido, Precious Lee, Sabina Karlsson and Georgia Pratt walked alongside "straight-sized" models at Artbeam Studios in front of the hundreds that came out to see his Spring/Summer 2017 collection.
With headlines like "Christian Siriano's is most inclusive runway of the season" and "Christian Siriano casually cast five plus size models in his runway show" people are certainly taking notice of the designer now.
Plus-size models have walked the NYFW runway before, for brands like Addition Elle and Chromat, and for Ashley Nell Tipton's Project Runway finale collection, but this was one of the first times that a well-known designer — and celebrity favorite — chose to make such a big statement about inclusivity.
A week before his show, Siriano said that his model casting was "all about diversity for this season." And he delivered beyond just size diversity, selecting models of all different skin tones.
A few of the plus-size models that had walked have taken to Instagram to thank Siriano for celebrating their curves. "Bringing diversity to NYFW!! I could wear every single piece that he designed!!," Karlsson wrote. "Thank you ... for having me serve these curves on your runway today," said Lee.
And many fans have voiced similar sentiments on Siriano's Instagram page. "Thank you for giving a fair depiction of beauty in all shapes and sizes," one commented. Said another: "Thank you for designing for every woman! Beautiful sight."
Yet another: "You are not bound by size, only by the limits of your endless creativity and imagination. Thank you for changing the game."
From Ashley Graham to Christina Hendricks to Janet Mock, it was clear from the celebrity-filled front row that Siriano's embrace of diversity isn't a one-sided pursuit. This is even further reflected by the influencers he's recently dressed, who range from Michelle Obama and Jennifer Hudson to Uzo Aduba and Laverne Cox.
"I know that these girls look great in these dresses, and I know they feel good," Siriano said to Glamour. "At the end of the day, I love to create change. I think it will be nice if then there's a new wave of a totally different fashion it girls."
With Siriano leading the charge, this seems imminent.