Whoopi Goldberg adds model to her prolific resume, making NYFW runway debut at 60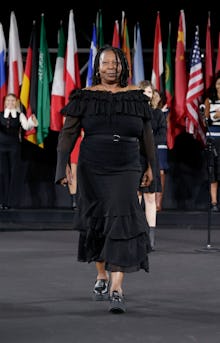 Fashion brand Opening Ceremony, founded in 2002 by Carol Lim and Humberto Leon, ditched a traditional New York Fashion Week runway show for a special celeb-filled presentation, titled "Pageant of the People," on Sunday night at the Jacob Javits Center.
The "pageant," hosted by Fred Armisen and Carrie Brownstein, was half fashion show, half opportunity to encourage people to vote in November's presidential election. Although everyone from Rashida Jones and Rosario Dawson to Aidy Bryant and Rowan Blanchard took to the stage to discuss topics like refugees, immigration and feminism, Whoopi Goldberg stood out amongst the others with a simple, but necessary, statement.
The View host has long been known for her eclectic fashion choices, specifically with her sock and shoe combinations. And now, after sitting front row at NYFW shows like Hood By Air and Tracey Reese and producing an upcoming television series about transgender models, it seems the 60-year-old EGOT is finally taking the fashion industry by storm.
"You should vote, because if you don't vote, you can't bitch," Goldberg said before closing the show, according to the Hollywood Reporter.
As seen by brands like R13, Pyer Moss, and now Opening Ceremony, fashion can be used as a means for a political discussion.
And although Opening Ceremony's show was infused with some humor from the comedians involved, its point — that of getting people to care about the upcoming election — came across clearly throughout the presentation.
"Since our first show, Opening Ceremony has participated in fashion week as a platform to express ideas," the founders wrote in the show's program. "This year, no ideas are as critical as the ones our country will consider on election day. Our Fall II & Winter 2016 show is a tribute to the American democratic process and the diversity of those who participate in it."
The program concluded with, "Tonight's pageant has no judges. We invite you to cast a ballot at the polls on November 8th." Who knows whether the presentation will actually encourage anyone to vote, but one thing's for sure: The brand stood out in a sea of traditional NYFW shows.