Miley Cyrus says she's retiring from red carpets — here's why that'll be nearly impossible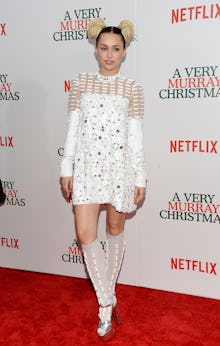 Miley Cyrus was last photographed on a red carpet in December 2015 for the premiere of Netflix's A Very Murray Christmas. And according to the 23-year-old The Voice judge, she will never walk on one again. 
"Why, when people are starving, am I on a carpet that's red?" she said to Elle for the publication's October issue in which she covers. "Because I'm 'important'? Because I'm 'famous'? That's not how I roll. It's like a skit — it's like Zoolander."
Since breaking free from the reins of Disney, Cyrus has been quite outspoken about the downsides to fame. 
"Getting more money, having more hits, being the lead in the movie — those things might stimulate you, but they don't make you happy," she told Marie Claire in August 2015. "I've experienced it all already, and I'm telling you firsthand, it doesn't."
This is likely why she's dedicated a significant amount of time to charitable organizations and political issues that she's passionate about. In 2015, she started the Happy Hippie Foundation, which rallies "young people to fight injustice facing homeless youth, LGBTQ youth and other vulnerable populations." Additionally, she has donated over a half of million dollars to AIDS research over the years. 
But here's the thing about being a multi-award-winning singer/actress: More times than not, headline-generating quotes are pulled straight off the carpet. 
So, being that Cyrus has just joined the panel on The Voice — which includes a televised red carpet — and has a new Amazon series, Crisis in Six Scenes, coming out later this month, will she be able to stick to this plan? Probably not. 
Perhaps, instead of vowing to ditch all future red carpet appearances and therefore remain silent, Cyrus could use the opportunity to speak out about all of these issues she cares about so deeply. After all, by giving a revealing interview to Elle, she clearly has decided not to stray away from press opportunities entirely. 
And judging from past appearances, Cyrus is more than comfortable hitting the red carpet. 
Mic has reached out to Cyrus' representatives for comment and will update with a response.