iPhone 7 and 7 Plus review roundup: Experts drool over the new features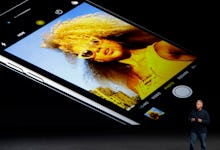 The iPhone 7 and iPhone 7 Plus are almost in our grasp. The new iPhones have a release date of Sept. 16 and some eager fans have already started lining up outside of Apple stores, desperate to get their hands on the latest devices. Others, however, remain skeptical.
With the iPhone 7 and iPhone 7 Plus nixing the headphone jack, some have raised questions about Apple's motives. There are some positive trade-offs, though. Water resistance, stereo speakers and an improved camera are just a few examples.
The consensus: It's pretty great, despite an update lacking in showstopping innovations.  
Critics have finally gotten their hands on the new iPhone 7 models — here's what they're saying:
The Verge's Nilay Patel writes that the iPhone 7 and iPhone 7 Plus, despite feeling incomplete, are "terrific phones" that will "serve as the foundation for many important changes to how phones work and integrate into our lives." He scored the iPhone 7 and impressive 9/10, though he notes that "you won't actually be missing out on much if you don't get an iPhone 7." The next generation iPhone 8, he argues, will be the true turning point for modern smartphones. 
Wired's David Pierce feels pretty strongly about Apple's latest offering as well, giving the iPhone 7 another 9/10 and confessing that the "iPhone 7 won't blow your mind with its design or features... [but] it's still a fantastic phone." The review harps the loss of the headphone jack, as well as the diminished home button and easily scratchable jet black model, but praises the "absurd amount of processing power inside this phone" and the improved camera and water resistance. 
The Wall Street Journal's Geoffrey A. Fowler is all aboard the Apple train as well, describing the new devices as the "anti-anxiety phone" due to its improved battery, water resistance and cameras with low-light capabilities. "Over the past five days, I have squeezed an hour-and-1/2 more battery life out of the 7 and 7 Plus in brutal tests," he writes. "I dropped an iPhone 7 in a pond, and it survived! And I've managed to snap more than a few after-sunset photos I'm actually proud of." He confesses that Apple is still playing catch up to Samsung, but it's worth the upgrade — especially if your current phone is two years or older.