'Big Brother 18': Paulie and Da'Vonne have an explosive fight in the jury house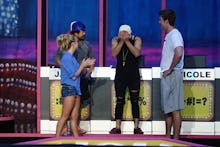 On Tuesday's surprise eviction episode of Big Brother, Victor was voted out of the house for the third time this season. Victor's fellow nominee and BFF Paul then won the Head of Household competition and guaranteed his spot in the final three. 
At the beginning of Wednesday's episode, Paul is seen crying after his big win. "I've had it tough since day one," he says in the diary room. "To see it all pay off like this is just crazy." 
The next houseguest to cry? Nicole. "You're in a good spot one second, and then the next you're fighting for your life," she says. "My life depends on this veto competition." 
James, on the other hand, is just super excited. He reveals that the day before the surprise eviction, he and Paul had a nice little chat about joining forces with one another. "You and I, if we don't work together we would lose no matter what," Paul says to James in a flashback.
Nomination ceremony
In order to make things right with Victor, Paul's goal with his HOH win is to send either Nicole or Corey home.  
Paul nominates the lone showmance left in the house, Corey and Nicole, explaining, "Beating both of you is going to be tough."
Jury house
In a jury house segment, Da'Vonne says there is a lot of tension in the house and that Zakiyah and Paulie are one one side, and Bridgette and Da'Vonne on another. 
Once Natalie joins and shows the jury members the tapes of what happened in the past week that led to her eviction, she explains that she would've used the veto on James if she'd won it. "Something that Paulie didn't do," fellow jury member Michelle says. 
"Do I not have Zakiyah's back in this house?" Paulie asks. He explains to the camera that since he and Zakiyah started speaking again in the jury house, Bridgette and Da'Vonne have been treating Zakiyah like "she's the worst person in the world." 
Da'Vonne, Bridgette and Paulie then go at it. "You are so classless," Paulie says to Da'Vonne. "I am so sick of you," Bridgette says to Paulie. 
Da'Vonne adds: "Paulie, you are an arrogant asshole. And I do know that you only talk down to women." She then proceeds to just repeat, "Don't ever get it twisted," in Paulie's face. 
Da'Vonne is separated from the group by producers after Paulie mentions her daughter. "Don't bring up my daughter," she screams. 
Veto competition
In this week's baseball-themed veto competition, houseguests first hear audio of an event that happened in the Big Brother house this season. They must then figure out what day the situation occurred and run the number of bases that correspond to the day it happened on. The last person to get the right amount of days earns an out. Once you have three outs, you're out of the game. 
James is eliminated first, followed by Nicole. Paul beats Corey and wins the power of veto but decides not to use it. 
Eviction
James, the only houseguest eligible to vote, chooses to evict Corey. That means Nicole, James and Paul will duke it out in the three-part final Head of Household competition. Whoever wins two parts of that will be a guaranteed finalist and will decide who he or she is taking with them to the final two.
The next episode of Big Brother will air Friday at 8 p.m. Eastern on CBS.