Sandra Bland's family settles wrongful death lawsuit for $1.9M: report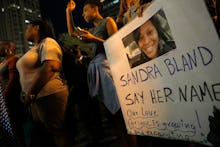 Sandra Bland's family has settled a wrongful death lawsuit for $1.9 million, after more than a year of seeking justice for the 28-year-old African-American woman's suspicious death in a Texas county jail cell.
The family's attorney, Cannon Lambert, told KTRK-TV on Thursday that the settlement was reached with the Texas Department of Public Safety and the Waller County jail in Hempstead, Texas, where Bland was found dead and hanging from a bathroom partition on July 13, 2015.
According to the agreement, the Department of Public Safety will pay $100,000 of the settlement, while the jail itself will pay $1.8 million. As a condition of the settlement, the jail must also staff all shifts with emergency nurses, standardize timeliness of inmate cell checks, and seek more resources for inmate screening and for training of jail guards, Bland's mother, Geneva Reed-Veal told KTRK-TV.
Any future state legislation passed to benefit Waller County must also be named in honor of Sandra Bland, her mother said.
The settlement is the latest in a series of large sums awarded to the families of African-Americans killed by U.S. police. Recent deaths, including Bland's, have driven the Black Lives Matter movement and started a national conversation about racism and policing.
Sandra Bland, a Chicago-area native, had been traveling to Texas to interview for a job at her alma mater, Prairie View A&M University, when she was stopped for failing to signal a lane change on July 10, 2015. Her encounter with a white Department of Public Safety trooper escalated to Bland's arrest for allegedly resisting arrest.
Brian Encinia, the DPS trooper shown on dash cam video threatening Bland with his Taser gun, was later indicted for perjury after her allegedly falsified the circumstances of Bland's arrest in an official report of the incident. Encinia had been placed on modified duty and plead not guilty to the perjury charge in May, according to KTRK-TV.
Bland's family had argued that, in addition to her unwarranted arrest, jail officials covered up foul play that caused her death in the jail. A medical examiner ruled Bland's death was suicide caused by asphyxiation. But her family maintains that she would not have killed herself.
Last December, a grand jury decided against indicting anyone in Bland's death.