What we know about Bryan Mason, the police officer who shot 13-year-old Tyre King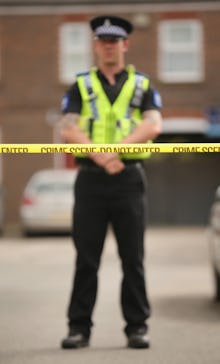 Officials in Columbus, Ohio, on Thursday identified Bryan Mason as the police officer who shot 13-year-old Tyre King. The black teen was allegedly armed with a toy gun.
Kim Jacobs, chief of the Columbus Division of Police, announced during a press conference Thursday morning that Mason, a nine-year veteran of the division, would be placed on administrative leave while an internal investigation is completed.
"I will not let an officer out on the street, if I don't trust them to be capable of doing so," Jacobs said in a response to media questions about how Mason would be evaluated.
Mason had reportedly been attempting to detain King and other suspects Wednesday night, in connection to a robbery. In a statement, police said the teen "pulled a gun from his waistband" as officers approached him.
"Officers followed the males to [an] alley ... and attempted to take them into custody when one suspect pulled a gun from his waistband," read the statement first reported by NBC News.
Mason shot and struck the suspect "multiple times," police said.
After the fatal shooting, on-scene investigators recovered a BB gun, which King allegedly brandished. The teen was pronounced dead at a nearby hospital at 8:22 p.m. Eastern on Wednesday.
According to the Columbus Dispatch, Mason was cleared of wrongdoing in the fatal shooting of a local man on Dec. 17, 2012. The man had reportedly called police to complain about someone who would not leave his home.
Jacobs said Wednesday night's incident marked Columbus' 13th police-involved shooting in 2016. Five of the people who were shot by police died, while one officer died in the line of duty.
Sept. 15, 2016, 5:56 p.m. Eastern: This story has been updated and reflects the confirmed spelling of the shooting victim's name.