MAC unveils the first images of the complete Selena makeup collection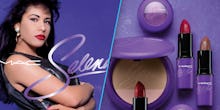 In July 2015, after a petition received over 37,000 signatures, MAC Cosmetics announced it was creating a makeup collection inspired by the late Selena Quintanilla. Finally, over 13 months later and after revealing a sneak peek at the "Como La Flor" lipstick in April, the entire line of products is here. 
"The vivacity of Mexican-American singer, Selena Quintanilla, lives on through the passion of her fans and her impact on Latin culture and beauty," a press release reads. "Inspired by the devotion of all those still touched by the iconic Latin legend, MAC Selena is a makeup collaboration tenderly curated with Selena's sister. Selena not only taught us to move, she moved us — let's keep that rhythm alive." 
#MACSelena consists of three lipstick shades, a deep wine titled "Dreaming of You", the cherry red mentioned above named "Como La Flor" and a pinky brown, "Amor Prohibido," five eye shadow colors, a liquid eyeliner, mascara, a blush compact containing two color options, a brush and a "Bidi Bidi Bom Bom" lipglass. 
"I wanted the colors to be about her personally, what she wore on and offstage," Suzette Quintanilla, Selena's sister said in a press release in April. "It just shows the love her fan base has even though she's gone; that her music still lives on and her legacy has grown tremendously since she's passed."
And many of these fans have Tweeted about their excitement for the products' release. 
Members of MAC's rewards program can shop the collection starting on Sept. 28. Everyone else can purchase the products online starting on Oct. 1 and in stores from Oct. 6 until Nov. 17.