Hand-painted illustrations from NYFW capture the simple beauty of a well-made garment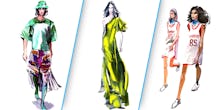 Although New York Fashion Week might've officially ended with a controversial Marc Jacobs' show on Thursday afternoon, many of the looks that walked down the runway for the past nine days (fashion can't be contained to a seven-day week) will continue to be discussed and worn by celebrities and influencers for months to come.
Fashion illustrator James Skarbek decided to further commemorate some of the more talked about looks — from Gigi Hadid's Tommy Hilfiger collection to Chromat's structured pieces — onto paper.
"Usually I gravitate to the most colorful designs first, I can't help it," he said in an email about the outfits he chose to draw. "I look for the most interesting shapes, or which designs can be broken down into illustration in a fun way. Sometimes I'm drawn to a certain model too, the way they are styled and their expression."
He added, "NYFW is such an exciting time. There's so much energy and creativity flowing. As a fashion illustrator creating these images is my way of taking part in that excitement."
Take a look at the beautiful results below:
Anna Sui
Oscar de la Renta
Christian Siriano
Gypsy Sport
Prabal Gurung
Marc Jacobs
Tommy Hilfiger
Chromat