Christian Siriano created 8 custom gowns for the 2016 Emmy Awards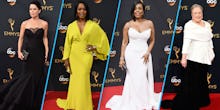 Christian Siriano wasn't technically nominated for any awards at the 68th annual Emmy Awards, but many are saying he won the night. The 30-year-old designer dressed what is likely a record-breaking nine women for Sunday night's show at the Microsoft Theater in Los Angeles — eight of whom he outfitted in custom gowns.
Sometime between getting married, putting on a runway show at New York Fashion Week, dressing Michelle Obama for the Democratic National Convention and speaking with reporters for feature after feature, Siriano managed to create pieces for American Horror Story's Angela Bassett, House of Cards' Neve Campbell, The Affair's Maura Tierney, Getting On's Niecy Nash, American Horror Story's Kathy Bates, Getting On's Laurie Metcalf, Unbreakable Kimmy Schmidt's Lauren Adams, Veep's Anna Chlumsky and Ghostbusters' Leslie Jones.
"Thanks for all the love tonight everyone," Siriano wrote on Twitter. "My team and I had a blast creating for these beautiful and amazing women."
Within the past year, Siriano has been outspoken time and time again about dressing women of all shapes, sizes, ages and ethnicities. Just last April, he launched a collection with Lane Bryant simply to be able to reach a larger demographic of women.
With celebrities approaching him left and right, like they did for the Emmys, his commitment to the conversation has clearly paid off.
And many on Twitter have taken notice as well, with the New York Times fashion critic Vanessa Friedman, too, noting that it's likely a record.
Red carpets are typically populated with garments pulled off the runway (like Tierney's). It's seldom that a designer would create a custom garment, let alone eight, due to time commitment, fittings and the sheer craftsmanship that goes into doing so — hurdles that Siriano seems to be unbothered by.
Perhaps from now on Giuliana Rancic should switch from asking "who are you wearing" to "are you wearing Christian Siriano?"