After claiming he does not see color, designer Marc Jacobs issues a formal apology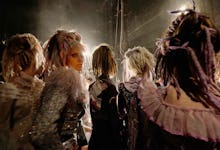 Marc Jacobs is, for the time being, fashion's most controversial figure.
For his New York Fashion Week show on Thursday, nearly two dozen models, only of which a handful were black, walked down the runway wearing multi-colored dreadlocks. 
Minutes after the show ended, the internet and fashion critics alike, were divided on whether or not Jacobs had just appropriated black culture. "Marc Jacobs closes New York fashion week with glorious mess of ideas," read the Guardian's headline. "The uproar over Marc Jacobs and dreadlocks is ridiculous" read the Washington Post. And then there was Jezebel which simply stated, "Marc Jacobs Doesn't Get It." 
Three days later, after being overwhelmed with backlash, Jacobs took to Instagram to offer a formal apology. 
"I have read all of your comments," he wrote. "And I thank you for expressing your feelings. I apologize for the lack of sensitivity unintentionally expressed by my brevity. I wholeheartedly believe in freedom of speech and freedom to express oneself though art, clothes, words, hair, music...EVERYTHING." 
He added, "Of course I do 'see' color but I DO NOT discriminate. THAT IS A FACT! Please continue to express your feelings freely but do it kindly. Nothing is gained from spreading hate by name calling and bullying." 
Jacob's decision to include dreadlocks has spurred a fervent debate to say the least. In addition to the bevy of white models wearing the locs, many were taken aback by Jacobs, and the show's hairstylist, Guido Palau's, lack of credit to or at least acknowledgement of black culture.
While speaking with the Cut, Palau cited the '80s, raver culture, Boy George and Harajuku as the inspiration for the hairstyle. When asked specifically if Rasta culture was also on this list, he responded, "No, no at all." 
The images Jacobs and his brand posted on Instagram are filled with hundreds of comments on both sides of this argument. But the situation also has fashion critics divided, with some diverting the debate away from "this is cultural appropriation" to "this is fashion/art."
"There was nothing about the clothes or the set — a stage filled with hundreds of dangling lightbulbs — that suggested the designer had disrespected black culture and its connection to black people, black politics, black struggle," the Washington Post's Robin Givhan argued. 
While USA Today's Jaleesa M. Jones explained, "Black culture isn't deemed 'sophisticated' or 'fashionable' until it is co-opted by white tastemakers. It is one thing to engage in cultural exchange — fashion has made a practice of this, piecing together elements of different cultures to produce transcendent mosaics — but it's another to seemingly bypass aspects of one culture and then act as if whitewashing them somehow elevates them."
Perhaps Jacobs' biggest mistake was not so much having models wear dreads or not giving credit when it was due, but the non-apology he offered in a comment section on Instagram a day after the show in which he explained how he doesn't see color:
And all who cry "cultural appropriation" or whatever nonsense about any race of skin color wearing their hair in a particular style or manner — funny how you don't criticize women of color for straightening their hair. I respect and am inspired by people and how they look. I don't see color or race — I see people. I'm sorry to read that so many people are so narrow minded ... Love is the answer. Appreciation of all and inspiration from anywhere is a beautiful thing. Think about it.
Besides not even acknowledging that there might be more "right" answer here, Jacobs stated that he doesn't believe there is merit to any cultural appropriation accusations. He put the term in quotes and likened it to "nonsense." It's likely that all those sent home from work or school, fired, expelled or simply treated differently because of their hairstyle would think otherwise. 
Furthermore, he equated black women straightening their hair to cultural appropriation, despite the fact that many women feel that they have to straighten their hair in order to fit into a white ideal of beauty. 
As Complex explained, "While it may be a matter of opinion to decide whether it's okay for a white person to wear dreadlocks, it's clear that that decision isn't under the same racist pressures put upon black women to straighten their own." 
So there might not be a yes or no answer to whether or not Jacobs appropriated black culture. But it's safe to say that Jacobs didn't handle the response to the show like he could have in order to avoid the fervor of the backlash.
After all, the brand witnessed the outrage that ensued when blog Mane Addicts referred to the bantu knots that Marc Jacobs walked down the runway for his Spring 2015 Marc by Marc Jacobs show as "mini buns," prompting the brand to tweet, "ICYMI: no, we didn't invent nor claim to invent Bantu Knots or any other hairstyle. Check the source." 
It's clear that cultural appropriation is a hot topic which elicits impassioned arguments. But where does the industry go from here? The line between appropriation and appreciation is a hazy one, as is who would be the arbiter of said line. 
Jacobs has apologized, but only time will tell if he actually learned anything from the comments infiltrating his social channels since Thursday afternoon or if the apology was merely a way to silence those speaking out in opposition. 
Mic has reached out to the Marc Jacobs team for comment.