Video of Terence Crutcher's police shooting may be "the worst we've seen" yet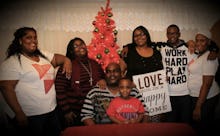 Police in Tulsa, Oklahoma, released video and audio clips Monday from the fatal shooting of Terence Crutcher, a stranded and unarmed black motorist. The clips, captured from multiple angles on Friday, show the 40-year-old Crutcher with his hands up before he is stunned with a stun gun and then shot by Tulsa officers.
Authorities gathered local community leaders — including pastors, state lawmakers and members of Crutcher's family — at Tulsa Police headquarters on Sunday to preview the clips, Ray Owens, a pastor at Metropolitan Baptist Church, said in a phone interview. He was among the 30 people present for the viewing.
"My impression is that the video I saw is among the worst that we have seen nationally," Owens said. "The man who was shot was walking away from police with his hands in the air. That, to me, suggests that he did not present a threat."
(Editor's note: This video contains disturbing footage. View with discretion.)
The video, which Mic obtained from Tulsa police, comes out as black communities and activists continue to respond to the fatal police shooting of black people in Ohio, Minnesota and Louisiana. Such incidents have spurred the national Black Lives Matter movement, which grew from a spate of state-sanctioned and extrajudicial killings throughout the country.
On Friday evening, Crutcher's SUV was stalled in the middle of a road on the northeast side of the city, the Tulsa World reported. Police responded to 911 calls reporting Crutcher, a father of four and student at a local community college, and his stalled vehicle. Authorities, who declined Monday to comment on the specifics of the case, initially said Crutcher reached into his vehicle instead of complying with officers' commands to raise his hands.
But footage of the incident shows Crutcher walking away from officers toward his vehicle. When he reaches his vehicle, Crutcher is stunned with a stun gun by one police officer and shot by another officer mere seconds later. In a news conference Monday afternoon, Tulsa Police Chief Chuck Jordan said Crutcher did not have a gun on his person or in his vehicle.
The names of the two officers involved in Crutcher's death were released Sunday, according to the Tulsa World. Officer Betty Shelby, who fired the gun, was placed on routine administrative leave. The status of Officer Tyler Turnbough, who deployed the stun gun, was unclear.
Owens, the Tulsa pastor, had not spoken to Crutcher's family since they viewed the video. But he said the group he viewed the video with was told that the footage upset the deceased man's twin sister. She had walked out of the viewing.
The pastor said he has known the Crutcher family for years; Terence's father had been a musician in his north Tulsa church. That made seeing how police responded to the shooting even more offensive, Owens said.
"The reaction of the police after the man was down — it was well over a minute before there was any attempt to render medical aid," Owens said. "He laid in the street. The police seemed not to react to that. I'm a layperson, but that troubles me."
Community leaders said they were also bothered by a police helicopter operator's description of Crutcher as "bad dude" who "could be on something," as the chopper hovered above the stranded SUV. "What would make an officer who was in a helicopter be able to make that determination?" Owens said. "He's tall, heavy and he's black."
The pastor added, "I think this is about the culture of policing in communities of color. We have to begin to analyze those practices [and] those norms."
Another local pastor held a rally outside of the Tulsa courthouse Monday morning, KOTV reported. 
"Several others are talking about how we can create spaces for people to voice their concerns in peaceful ways," Owens said. "I imagine a lot of that will happen in the coming days."
Sept. 19, 2016, 10:00 p.m. Eastern: This story has been updated.