Where is the uproar over H&M quietly removing their plus-size sections?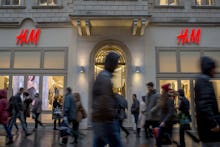 H&M, a brand that recently has been preaching size inclusivity by casting curvy models in its campaigns, has quietly decided to remove the plus-size section from some of its stores. 
Revelist walked into several different stores in New York City that once sold plus sizes and was told by store associates that they had stopped selling the bigger sizes a few months ago. 
After being told by customer service that not a single store within Manhattan, Queens and Brooklyn carried plus sizes, a spokesperson provided the following statement as to why:
H&M's product range has grown in the past few years, with e.g., an extended sports offering, a new beauty assortment and our interior concept H&M Home. This means not all stores have room for all our fashion concepts. The assortment in the stores is evolving as we continuously assess the product mix, which is decided by each store's specific prerequisites when it comes to e.g., its size and the customers' requests. We refer customers to our online store hm.com, which includes all our fashion concepts, and a broader assortment.
Yes, due to new sports, beauty and home items, some H&M stores have run out of room to stock any plus-size items. So where is the uproar? 
It seems that many didn't realize that the sections had been completely removed, but there are a few people that have taken to Twitter to voice disappointment with the brand's decision. 
While others already had frustrations with the brands' plus-size offerings. 
Just this past week, H&M received praise for its ad campaign featuring plus-size model Paloma Elsesser, transgender model Hari Nef and Lion Babe's Jillian Hervey. "Watch H&M's most inclusive campaign yet," read Elle's headline. "H&M's stunning new ad subverts what you think a lady should look or act like," wrote Adweek. 
While many Twitter users were quick to compliment the brand, some used it as an opportunity to call out the brand's own hypocrisy.
There was similar backlash a few weeks back when Ashley Graham became one of the faces for the brand's pricier, seasonal studio collection alongside other straight-size models. As it turned out, the plus-size version of the items — yes, the one Graham wore in the campaign — would only be available online. 
According to a representative who spoke with Revelist, H&M Plus is still offered "in the majority of U.S. locations." With that in mind the publication researched just how many stores carried the line in a few of the country's states: 
17 out of 75 stores in California carry plus sizes
H&M can proclaim it is body-positive and inclusive, but leaving out plus-size women from a majority of its stores ignores all of the struggles that curvier women face when shopping. 
If only H&M would listen to what its customers are requesting: the opportunity to walk into stores and find fashionable yet flattering pieces alongside their straight-size friends. Is that really so much to ask?