Geena Rocero and Tracy Norman are the first trans models to cover 'Harper's Bazaar'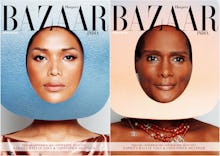 After nearly 150 years of publication, one of the earliest fashion magazines in existence, Harper's Bazaar, has casted not one, but two transgender models for the covers of one of its international editions.
Industry vet and current face of Clairol Tracey Norman, and Geena Rocero, the founder of advocacy campaign Gender Proud, are two of the nine diverse cover stars for Harper's Bazaar India's 'Nine Wonders of the World' series, joining models including Tyra Banks and Soo Joo Park. 
"It's an honor to be on the cover," Rocero said in an interview on Tuesday. "I think the road has been paved for so long. This moment is a manifestation of so many people that made it possible for me and so many models." 
As the New Yorker reported earlier this week, there have been transgender models for decades, like April Ashley and Caroline Cossey, but many kept their identity a secret. Tracey Norman, too, is a perfect example of this. According to the Cut, in the late '70s and early '80s, Norman was quite the successful model, posing for magazines such as Vogue Italia and Essence, and being featured on the box of beauty brand Clairol, until she was outed as transgender. 
"The women who paved the road for me, like Cossey and Norman — when they came out during their time, they paid a price for that," Rocero said. "For me, when I moved to NYC, they were both my sense of inspiration and sense of fear. They represented what was possible for me, but I was afraid that what happened to them might happen to me." 
And this fear was exactly what art director and executive producer Christopher Sollinger wanted to depict in the cover series. 
"This entire project stems from wanting to do something with Tracey," he told the Cut. "The way she had to live in hiding and in fear, being such a beautiful woman with so many talents and gifts, just felt so wrong. She's someone who should be celebrated." 
He further explained in a press release, "We need to show the women of the world that is of now. The world is changing, and with this story we want to be apart of that global revolution." 
"I never saw trans models being celebrated for their beauty, for their achievement, for their identity."
For Rocero, the covers also offer a sense of identity validation. 
"For the longest time, when you don't see yourself reflected on media or any mainstream representation, there's a sense of erasure in that," she said. "When I was young growing up in the Philippines, where I dreamt of being of a model, I never saw trans models being celebrated for their beauty, for their achievement, for their identity." 
She added, "I hope [the covers] will send a message to a young trans or gender nonconforming youth somewhere in the world ... I hope it sends a message to them that their identity is valued, that their lives matter and that they could pursue things that they're passionate about." 
As for the media industry, Rocero believes visibility in pop culture and on the runway is necessary, but that there's a disconnect between what we see and what is actually happening in the everyday life of a trans person. 
"I've always had this understanding," she said. "Changing policy and changing culture have to be two things that are interchangeable ... I want more policy change, more systemic change in everyday life of trans people." 
But for now, maybe major U.S. publications will follow Harper's Bazaar India's lead and feature trans women front and center. 
"Trans people deserve those spaces and opportunities where we can tell our own stories," she said. "We've been here for so long; we've always been around and here we are."