5 times Ariel Winter boldly stood up for curvy women everywhere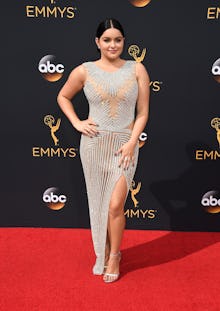 Ariel Winter might only be 18 years old, but that doesn't mean she's exempt from daily influxes of slut- and body-shaming trolls on her Instagram account.
Ever since the Modern Family actress wrote a revealing essay about her decision to have breast reduction surgery, she has remained an open book, especially when it comes to body image. Instead of ignoring the hundreds of comments calling her names or telling her to cover up her curvy figure, Winter claps back, time and time and time again.
Here are five instances when Winter served up some empowering, body-positive messages that everyone could learn from and be inspired by. 
When she nailed the importance of body-inclusive imagery
Times might be changing now, with more curvy women being cast in campaigns and on runways, but when Winter was growing up in the public eye, she says she didn't have anyone with a body like hers to look up to, making her feel insecure. That changed once she began to find role models in the women around her. 
"As I got older, I was surrounded by people like Sofia Vergara, and people who were curvier like me and were proud of it and who were showing it off," she told People on Friday. "That really helped me to move forward and be proud of my body."
She added, "I finally said to myself, 'This is who I am. There's no way I'm changing, and I should learn to love and accept it.' And I did. It just took me a while." 
When she taught her trolls about anatomy
Winter often finds herself having to defend images she posts that show her butt. But that doesn't mean she will start censoring herself.
"I like my fans to see what I'm doing," the Modern Family actress told Entertainment Tonight in August. "Everybody is so hyped up on the fact that I post photos where my butt's out. It's a butt. Everyone has a butt. I don't think it's crazy."
She continued, "Let me live! I'm enjoying my life, you're enjoying your life, you should be posting your butt if you like it, too! I'm not going to fight with someone on my Instagram that tells me they don't like my outfit or I should put my butt away. I'm sorry you think I should put my butt away, but just unfollow me." 
When she told her haters to get a hobby
After Winter posted a photo of her graduation party dress in June, many took it upon themselves to let the actress know her outfit was inappropriate to wear in front of her family. 
"Dear sorry body shamers, I looked HOT in that dress," she responded. "And if you hate it, don't buy it. But please get a hobby. XOXO Ariel." 
When she reminded everyone that it's your decision to choose what you wear
After the graduation fiasco, Winter tweeted a mirror selfie writing, "Embrace all that you are. Don't let those outside voices become your inner voices." She added hashtags #mychoice and #loveyourcurves. 
When she stood up for Kim Kardashian West
Back in March, celebrities from Chloë Grace Moretz to Bette Middler took to Twitter to discuss whether or not Kardashian West should have posted a nude selfie to social media. Winter, too, weighed in saying, "No one was body shaming @justinbieber when he posted his nude guitar photo so why @kimkardashian? #herbodyherchoice"
She continued, "I think everyone, men and women, should have the right to choose what they do with their bodies — and not be criticized."