What we know about Brentley Vinson, the Charlotte officer who killed Keith Lamont Scott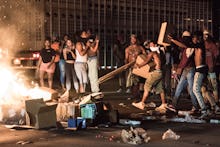 The North Carolina police officer who fired the fatal shot that killed Keith Lamont Scott on Tuesday was identified by officials as Brentley Vinson. He joined the Charlotte-Mecklenburg Police Department in 2014 and was assigned to the force's Metro Division.
Vinson, who is black, shot and killed Scott, a 43-year-old black man, whom police said was armed with a gun. Scott's family and other witnesses reportedly disputed police claims, saying the man had been in his car, unarmed and holding a book that he had been reading.
Vinson's unit arrived at the apartment complex where Vinson parked to execute an arrest warrant for someone else, when they encountered Scott. According to a statement by police, Vinson's unit observed Scott exiting his vehicle with a firearm and then getting back into the vehicle, before they advanced on him.
After Vinson shot Scott, police said they recovered a firearm on the scene. Although North Carolina is an open carry state, police said the officers believed Scott posed an "imminent deadly threat" to them. Vinson, who reportedly was not in uniform, was joined by other officers who were in uniforms, Chief Kerr Putney said in a news conference Wednesday morning.
Police officials said Vinson has been placed on administrative leave, pending an investigation into his conduct. Authorities also revealed that police officers on the scene were wearing body cameras, although Vinson was not wearing one. On Wednesday, civil rights groups such as the American Civil Liberties Union, called on police to release any footage of the shooting.
"As [we've] seen elsewhere, video footage of police shootings can provide crucial evidence of what took place – especially when there are conflicting accounts from police and community members." Karen Anderson, executive director of the ACLU's North Carolina branch, said in a statement that was an apparent reference to the fatal police shooting of an unarmed black man in Tulsa, Oklahoma, last week.
"The department should also explain why the officer who shot Mr. Scott was not wearing a body camera," she added.
Vinson, a Charlotte native who joined the Charlotte-Mecklenburg Police Department on July 21, 2014, had been a breakout football player at Liberty University, where he studied criminal justice. In the year that Vinson joined the force, CMPD did not reflect the diversity of the Charlotte's population.
Among approximately 1,800 CMPD officers, 75% were white, 17% were black and 4% were Hispanic in 2014. Charlotte, a city of an estimated 827,097 residents, is currently 45% white, 35% black and 13% Hispanic, according to the U.S. Census Bureau.
Sept. 21, 2016, 1:45 p.m. Eastern: This story has been updated.