'Stranger Things' Steve meets his "son," Jean-Ralphio from 'Parks and Recreation'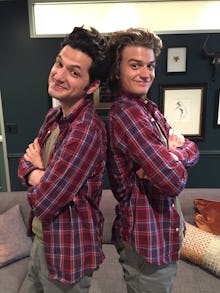 The most absurd fan theory of Netflix's Stranger Things has nothing to do with the seeming evidence that Eleven and the Demogorgon could be one and the same. What really matters is that Nancy's boyfriend Steve looks exactly like Jean-Ralphio from Parks and Recreation. 
Jean-Ralphio actor Ben Schwartz has previously teased the notion that the two series exist in the same universe, ostensibly making Steve the father of Jean-Ralphio. Furthering these theories, Schwartz met up with Joe Keery — who plays Steve — for some father-son bonding outside of the Upside Down.
The two wore similar plaid shirts and sported matching wavy hair, which all but confirms the mind-blowing theory that even the Stranger Things showrunners are backing. As Schwartz previously said in jest, there's absolutely a "100% chance of me being on Stranger Things seasons two through 100," which, frankly, we'd all love to see.