Gina Rodriguez is done with being Photoshopped: "Let me keep my curves."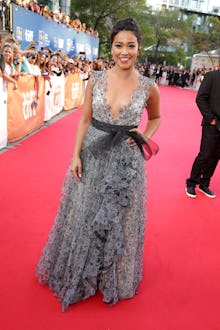 There was Ashley Graham on the cover of Maxim. Meghan Trainor on Seventeen. Kerry Washington on Adweek. And Rumer Willis in Vanity Fair. Within the past few months, all of these celebrities have dealt with some sort of unwarranted digital alteration. And Gina Rodriguez is not going to be the next victim to an erase tool or a heavy filter. 
"This day and age of Photoshopping and transforming oneself and filtering and filtering and filtering, it really feels good when a photo can capture my heart, my body, my spirit, without having to gloss over it," the Jane the Virgin actress said in the October issue of Women's Health, according to Refinery29. "Let me keep my curves, my birthmark. I want to look like myself." 
She continued, "People will say you are not attractive. People will say you are not skinny enough, not tall enough, not thick enough, not curvy enough, not white enough, not brown enough, not this enough." 
From her own image struggles to realizing there is no such thing as a "perfect" body, Rodriguez has not been shy about discussing the pressures she's faced in Hollywood to look a "certain way" and "live up to these images that aren't conducive to a healthy mind." 
"There's space for all of us."
Take the Kerry Washington Adweek debacle for example. After the Scandal star issued a comment about the cover, Rodriguez took to her own Instagram account to support her friend. 
"I want to commend my beautiful and honest friend @kerrywashington for speaking so eloquently regarding Photoshopping," she wrote. "And not just for herself but for our entire society who can get carried away with the meaning of beauty. There is a sense of loss of oneself, an introspective act of whether one is enough and ultimately a helplessness because you no longer can control an image of yourself." 
While a body-positive movement is slowly seeping into society, a majority of the models and celebrities staring in campaigns, posing for editorials and walking the runway are one idealized, straight-sized body type. The fashion industry has even defined a plus-size body as a very specific hour-glass figure. (Think models Ashley Graham and Denise Bidot.)
Rodriguez's advice to combat this? Stop comparing yourself to these people. 
"No one is in your race," she said. "Stay in your lane, and do you ... We live in a society, a culture, where it says not all of you can make it — only one of you can ... that's a false illusion. There's space for all of us."