Hillary Clinton on Zach Galifianakis' "Between Two Ferns": "I really regret doing this."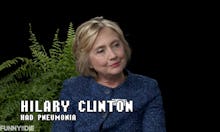 Hillary Clinton appeared on Zach Galifianakis' quirky "Between Two Ferns" series for Funny or Die, filming the episode the day she was diagnosed with pneumonia and joking that she regretted agreeing to the show.
Throughout the episode, Galifianakis took some subtle jabs at those who are uncomfortable electing a woman president, as well as some not-so-subtle jabs at Clinton's opponent, Republican nominee Donald Trump, calling him racist multiple times.
"What happens if you become pregnant, are we going to be stuck with Tim Kaine for nine months?" Galifianakis asked.
"I could send you some pamphlets that might help you understand," Clinton deadpanned.
"When you see how well it works for Donald Trump, do you ever think to yourself, 'Oh, maybe I should be more racist?'" Galifianakis then asked.
Clinton shook her head.
Galifianakis took aim at Clinton a few times, saying her pant suits make her look like a "librarian from outer space."
But he then went on to address the double-standard Clinton could face in the upcoming debate, given that Americans have never seen a female presidential nominee on a general election debate stage.
"Have you thought about what you're going to be wearing at the debates?" Galifianakis asked Clinton.
"There's this thing called the double-standard, so I think about what should the first woman nominee of one of our two major parties wear to the debate, and I have no idea so if you've got suggestions I'm open to them," Clinton said.
When asked what Trump would wear, Clinton suggested his "red power tie." Naturally, Galifianakis floated the idea of a "white power tie."
Clinton's appearance on the show is likely an outreach to millennials, who back Clinton in much larger numbers than they do Trump. However her level of support among the age demographic is lower than what President Barack Obama enjoyed in both 2008 and 2012 — and her team has been working to motivate those voters in November.
This is not the first time a major political figure has appeared on Galifianakis' show, which mocks public-access television. President Barack Obama was a guest on the show two years ago, where he plugged the roll out of the Affordable Care Act.
You can watch Clinton's entire appearance on "Between Two Ferns" here.