The unexpected way singer Skylar Grey uses her wardrobe to combat industry sexism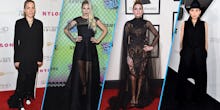 You might not know her by name just yet, but you've probably heard Skylar Grey's music.
From Eminem and Rihanna's "Love the Way You Lie" to to Dr. Dre's "I Need A Doctor" to Nicki Minaj's "Bed of Lies," the 30-year-old Grammy-nominated singer-songwriter has collaborated with many big acts.
But besides lending her voice or words to other performers, Grey also writes and records her own music. In 2013, she released her first album with Interscope records, Don't Look Down. More recently she had singles on the Fifty Shades of Grey and Suicide Squad soundtracks. And on Friday, she will release her sophomore album, Natural Causes before kicking off a 12-city tour. 
Despite how successful she has become over the past few years, Grey has experienced her fair share of sexism — a ubiquitous, and unfortunately pervasive theme within the music industry. 
"I definitely think that it's a little bit of a different world for guys and girls to be in the music industry," Grey said in an interview. "I think that's true in any industry. Most of the women in big positions in the industry, or people that have made it, they are pretty tough, powerful women."
She continued, "When I first started in music in Los Angeles, I was 17 when I first got my record deal, I let myself get pushed around a lot. People thought they knew what was best for me creatively. I think at first it was quite a bit of a struggle." 
Grey says she didn't have complete creative control until she became more successful in the industry. She credits chart-topping "Love the Way You Lie" as a big turning point in her career. 
"People really started respecting me as a songwriter and taking my songs more seriously," she explained.
Something else that helped Grey? Her androgynous style. "I really love pushing the boundary of gender and it's not for any other reason than I like the way it looks," she said. "I also feel the toughness of my style, [and my tattoos] stem from [being pushed around] ... I wanted people to take me more seriously and listen to what I was saying instead of just looking at me like a weak female."
Grey, who also has a clothing line called Woodrat, often shops in the male section of clothing stores. "I am really into silhouettes," she said. "I'm not so into colors or prints; I'm more into the shape of an outfit. I have so much black in my closet but all of the pieces have really interesting cuts." 
Her new album, which is exemplified by its title, is, like her style, quite dark. "Overall, the album is inspired by the fact that I really grew up a lot in the past few years," she said. "I see life totally differently now and its reflected in a lot of my songwriting. In comparison to my last album, it's darker but it's also more mature."  
_____________________________________________
Read more: 
One of her new songs on the album, "Come Up for Air" was produced by Eminem. And Grey, for the first time, raps on tracks "Lemonade" and "Picture Perfect." The latter is her favorite off of Natural Causes. 
"It's the sound I've been striving for for years that I've finally accomplished," she said, all thanks to a closet filled with black clothes, tough demeanor and, well, incredible talent.