Kerr Putney: There's no evidence that Charlotte shooting victim Keith Scott pointed a gun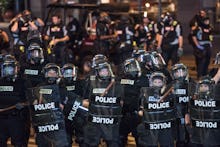 Video that shows the moments before police fatally shot Keith Lamont Scott does not definitively show him pointing a gun at officers in Charlotte, North Carolina, Police Chief Kerr Putney said Thursday morning in a press conference.
But a state law that only allows law enforcement authorities to view police body camera footage could mean the video will not be publicly released any time soon, Putney said. 
On Tuesday, Brentley Vinson of the Charlotte-Mecklenburg Police Department shot and killed Scott, a 43-year-old black man who police said was armed with a gun and disobeyed commands to drop the weapon. Vinson, who was in plainclothes, was not wearing a body camera during his encounter with Scott. But other officers were, officials said.
Putney, along with Charlotte Mayor Jennifer Roberts and other community leaders, took questions about Scott's shooting death, after a second evening of protests Wednesday that left at least one demonstrator in critical condition and two officers injured. Putney said 44 arrests were made at Wednesday night's protests.
The officials said the city was preparing for a third night of demonstrations Thursday and would continue to review body camera footage and other evidence.