"Their response was to tear gas us," activist seeking justice in Keith L. Scott death said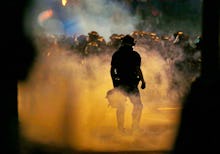 Activists protesting the fatal police shooting of Keith Lamont Scott — the 43-year-old black man who police claimed was armed and refused their commands to disarm during a Tuesday encounter — on Tuesday asked North Carolina-based community organizer Cherrell Brown to join them in Charlotte, North Carolina. Her role was to establish a "home base" and provide the kinds of logistics needed in major actions, including legal support for those arrested and medical response for the injured.
But on Wednesday when, for a second night, peaceful protests led by young organizers turned into tense standoffs with police, Brown's role shifted to that of field nurse. Police in riot gear began deploying tear gas and flash bombs to break up demonstrations that had spread into downtown areas, where businesses were reportedly damaged and looted. By the time Brown arrived on the scene, people were saying that police had allegedly opened fire on a protester.
"What I saw was a lot of young folks who were organically and peaceful protesting, simply standing and taking up space," Brown, of Greensboro, North Carolina, told Mic in a phone interview Thursday. "Their response to peaceful protesters holding space and taking care of each other was to tear gas us."
To help safeguard against that violence, local organizers told Mic that they have called on pastors, civil rights leaders and other activists from around the country to provide additional support to ensure a night of peace on Thursday. They are reaching out for help from organizers in the Black Lives Matter network and ministers from as far away as California. But due to the protests they'll see an increased law enforcement response, as the state's governor has already declared a state of emergency and activated the National Guard.
"You will see a heavy uniform presence," Kerr Putney, chief of the Charlotte-Mecklenburg Police Department, said in a news conference Thursday morning. "Despite this commitment by state and local resources, we still need to lean on our greatest partner: the community."
Those who are arriving to help out in Charlotte will join local groups, such as the Charlotte Clergy Coalition for Justice, The Tribe and the Queer and Trans People of Color Collective, Brown said in the phone interview. 
On both Tuesday and Wednesday, protests resulted in arrests and injuries of more than a dozen police officers, authorities said. Conrad James, an organizer with the Raleigh-based nonprofit think tank Living Ultra-Violet, told Mic he needed help on Wednesday evening controlling the crowd.
In a phone interview, James said he organized the vigil in Marshall Park for Scott. At around 6 p.m. Wednesday evening, scores of vigil attendees held moments of silence and prayed together, James said. Another sizable group of demonstrators disrupted their vigil, which eventually moved from the park to Charlotte's EpiCentre dining and entertainment complex.
In Wednesday's news conference, Putney said protests were no longer peaceful around 8 p.m., when people were seen jumping on vehicles and blocking traffic. By 8:30 p.m., he said officers were dispatched to the Omni Hotel, where a gunshot victim was evacuated and transferred to a nearby hospital. Police and protesters disagreed on whether the victim was shot by an officer or a civilian. And as businesses and property were damaged and looted, the chief said, officers dressed in riot gear began deploying tear gas to quell the unrest.
"I did try to lead them in organization," James said. "I tried to get everyone to understand that the violence was not what we needed. But now the national media are just reporting the looting and the violence. Peaceful protests would have given us so much more clout in public opinion."
The "angry and emotionally charged" people needed more organizers to keep them focused, James said. "One person trying to guide 5,000 people doesn't work." He added that they would need 10 or 15 people in leadership roles.
The help will come from leaders of the national Black Lives Matter network and traditional civil rights groups. Mike McBride, pastor of The Way Christian Center in Berkeley, California, spoke to Mic as he was traveling to Charlotte on Thursday morning.
"There is a deep moral and spiritual crisis that is being laid bare across the country," McBride said in an apparent reference to community response to police shootings of black people in Ohio, Oklahoma and North Carolina. "We are being invited to provide support to faith leaders and clergy on the ground and to support for a traumatized community." 
He added, "We hope to restore some sense of normalcy and address some systemic issues that exist."