Keith Lamont Scott's family: "More questions than answers" in Charlotte police shooting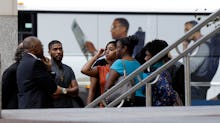 Keith Lamont Scott's grieving relatives say "they have more questions than answers" after viewing two police body camera videos that show the moment the 43-year-old man was shot and killed by police in Charlotte, North Carolina.
Law enforcement authorities have said Charlotte-Mecklenburg Police Department officers justifiably opened fire on Scott because he was armed and failed to obey their commands to drop his weapon.  
But in a statement attorneys for Scott's kin released to reporters on Thursday evening, the family said it was "impossible to discern" from the footage what Scott was holding before he was gunned down.
"It was incredibly difficult for members of the Scott family to view these videos, but as a matter of greater good and transparency the Scott family asks that the Charlotte-Mecklenburg Police Department publicly [and] immediately release both of the videos they watched today," said the statement tweeted by WCNC-TV.
Scott's death, which sparked protests and violent civil unrest in the city for two consecutive days, was caught on the body cameras of officers who encountered him on Tuesday as they were executing an arrest warrant for someone else. 
Officer Brentley Vinson, who was identified as the person who shot Scott, was in plainclothes and was not wearing a body camera, local authorities have said.
Scott's family said in the statement the video shows him complying with officers' commands in a "very calm and non-aggressive manner," according to the statement. 
Police gave Scott other commands and he "did not aggressively approach them or raise his hands" at officers, the statement said.
Ultimately, Scott's hands were at his sides and he was slowly walking backwards, when he was shot and killed, the family said in the statement.
Earlier Thursday, Scott family attorney Justin Bamberg held fast to his assertion Scott was holding a book, not a gun, during his fatal encounter with police.
"The family wants answers, the family deserves answers and we will continue to investigate until all of the accurate facts come to light," Bamberg said. 
"We can't talk about this incident in isolation; we have to look at the root of the problem."
But the public may never get to see what the Scott family saw: Police Chief Kerr Putney said Thursday, state law restricts release of the footage.