Charlotte police killing exposes deep institutional problems within the US justice system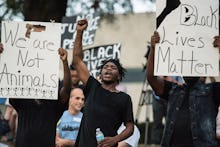 For years, the narrative around race and police violence has been consistent and, at times, reductive. 
Often, the message is if you're a black man, watch your step, keep your hands in sight and obey officers' commands; a white officer's anti-black bias may get you killed. But what's there to say when the officer who kills an unarmed black man is himself a black man, as was the case in Charlotte, North Carolina, this week?
The answer is — and some law enforcement professionals agree — that the race of the officers is less crucial to ending the epidemic of police violence than transformational reform of the criminal justice system.
"It's not just about police, it's about the criminal justice system," Dwayne Crawford, executive director of National Organization of Black Law Enforcement Executives, said in an interview Friday. "This goes to the core of our Constitution: does everyone under the law get fair and equitable treatment."
The answer, of course, is no. As President Barack Obama has said, it's a well-documented fact that black Americans are 30% more likely than whites to be pulled over by police, as well as three times more likely to be searched, twice as likely to be arrested and twice as likely to be shot by a law enforcement officer.
Betty Shelby, the white Tulsa officer charged in the Sept. 16 shooting of Terence Crutcher, and Brentley Vinson, the black Charlotte officer who officials claim was justified in Tuesday's shooting of Keith Lamont Scott, are a reflection of increasingly diverse police department nationwide. That aside, they enforce the same racially discriminatory laws and employ many of the same policing tactics that white male officers do.
Some of these laws and tactics are approved or encouraged by policies set at the federal and state levels. The most glaring example is the Violent Crime Control and Law Enforcement Act of 1994, Bill Clinton-era legislation enacted by Congress that funneled $30 billion into hiring more police, building new prisons and establishing new federal crimes for crack and crack cocaine possession. By the end of Clinton's presidency, the U.S. prison population had exploded by 673,000 and saw black men locked up at rate disproportionate to their population.
There had been bipartisan efforts to turn the corner on institutionalized racism in the criminal justice system as recently as May. Democrats and Republicans in Congress supported and introduced legislation that would have reduced sentencing for nonviolent drug offenders, as well as "ban the box" measures that might reduce employment discrimination for formerly incarcerated people.
"We've got to get some movement from our elected officials," Crawford said, adding that the protests seen around the country in recent years and in Charlotte this week are a response to the lack of seriousness around reforms. "We've got to start showing progress."
Members of the Congressional Black Caucus on Thursday decried the number of fatal police shootings of black Americans and renewed their calls for criminal justice reform at the national level. 
"Enough is enough," CBC chairman Rep. G.K. Butterfield said during a press conference in Washington, D.C., on Wednesday. "The federal government, including the executive branch and the legislative branch, must place the full weight of the federal government behind the elimination of unlawful police shootings."
Crawford said the focus on legislative reform isn't his attempt to downplay the positive impact that a diverse and racially equitable police force can have on fostering better relationships and trust in minority communities. For years, policing reform advocates have demanded that law enforcement leaders get serious about seeing white men aren't overrepresented among officer ranks.
According to the latest available Bureau of Justice Statistics data, in 2013, 27% of 477,000 full-time police officers in 2,000 local departments were racial or ethnic minorities. By contrast, people of color have accounted for more than one-third of the U.S. population for a decade. In 2013, about 12% of full-time officers were female, even though females represent half of U.S. residents.
NOBLE was founded nearly 50 years ago in 1967 by black law enforcement leaders who concerned about issues of institutional racism that are "eerily similar to what we're talking about now," Crawford said. It's why he believes the conversation around policing reform can't just be about race of the officers.
"I don't see this civil unrest subsiding," Crawford said, adding that he doesn't condone violence among protesters. "But I think we're not helping the situation by not providing some leadership" toward reform of the criminal justice system.
He added, "What can we do collectively?"