7 brands that follow their body-positive promises — and 2 that don't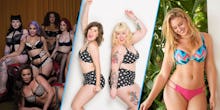 It's one thing to cast someone who's plus size for fashion campaigns, but another to actually care and service the needs and wants of a curvy women. 
With more and more plus-size celebrities speaking out about the lack of products available to fit their bodies and an increased visibility of plus-size models, it's easy for a brand to try and jump on the body-positivity train. Take Nike, which featured a plus-size model on its Instagram, for example. Or JCPenney's #HereIAm campaign, which asked plus-size women to share their experiences with body image. Or any of Lane Bryant's recent campaigns. 
While it might be encouraging to see someone that looks like you in magazines, editorials or on TV, it can quickly turn to disappointment if said brand doesn't sell products for the people they are depicting in their clothing. 
Two brands specifically, Target and H&M, have been launching one inclusive campaign after another, but also fielding complaints from customers about their in-store options — or lack thereof. 
Target
For its past two swim campaigns in 2015 and 2016, Target has casted models and bloggers with all different body types. And in June, Target asked five diverse influencers to discuss the struggles that come with finding the perfect pair of jeans.
But Target has also dealt with a few hiccups. In 2015, it faced backlash after announcing that the plus-size items from its Lilly Pulitzer collection would only be sold online. And, in general, within the past year, many have taken to Twitter to voice their disappointment with the nearly nonexistent plus-size sections in stores.
"I love that @Target is always has plus size models in commercials and such, but then you go to the store and nothing," one person wrote on Twitter. Said another: "I'm at @Target in Atlantic-Terminal in Brooklyn, one of the largest cities IN THE WORLD — and their plus-size section is one rack." 
H&M
One question, H&M: Why? Although it recently casted Ashley Graham alongside straight-sized models for its studio collection and released a campaign video featuring curvy model Paloma Elsesser, it has also been quietly removing the plus-size section from many of its stores. A spokesperson told Revelist that some stores had simply run out of space to stock the plus items. 
Customers have since taken to Twitter to voice their disappointment with this decision. "It's interesting to note that H&M uses plus size models in their ads but don't produce plus-size clothes for their stores," one person wrote. "As much as I like that H&M commercial, their plus-size section is abysmal," said another. 
Fortunately, there are many brands, seven of which are mentioned below, with inclusive ads and campaigns that also strive to sell products that plus-size women actually want to, and can, wear.
ModCloth
In both 2015 and 2016, ModCloth enlisted employees and fans of all different shapes, sizes and ages for its swimsuit campaigns. And on top of the stunning images that resulted, the online-only brand removed its plus-size category in 2015 to merge it with the straight-sized clothing under the label "extended sizes." 
ModCloth also has pledged to not digitally alter its models on its website and in advertisements. 
Neon Moon
U.K.-based lingerie brand Neon Moon casted plus-size women, a model with a shaved head and a transgender woman for its #IAmNeonMoon campaign in 2015. And in March, it removed its number sizing and replaced it with the terms "Lovely," "Gorgeous," "Beautiful," "Fabulous" and "Stunning," all of which correlate to a different range of measurements. 
Aerie
Back in 2014, Aerie vowed to stop airbrushing images of its models. It has since casted women with a variety of body types, like models Iskra Lawrence and Barbie Ferreira. Aerie's most recent campaign, "Share Your Spark," featured 40 different women offering body-positive advice and sharing the reasons they celebrate their bodies. 
Addition Elle
For two years in a row, Addition Elle has hosted one of the more diverse shows at New York Fashion Week. And in addition to collaborating with Graham and blogger Nadia Aboulhosn on collections, the plus-size retailer has launched campaigns, like the recent one titled "F*This" with models Jordyn Woods, Kwao and Ferreira, in order to raise awareness of the struggles curvy women face while shopping.
SmartGlamour
SmartGlamour is the textbook definition of an inclusive fashion brand. The ethical clothing line sells all of its designs in sizes XXS to 6X. Its most recent campaign, #InYourSize, depicted what many of these products would look like on a dependent on body shape. 
Curvy Kate
Curvy Kate, a fuller bust lingerie brand located in the United Kingdom, recently received praise for its #TheNewSexy campaign, which featured a woman who had her leg amputated, a model with alopecia, a transgender woman and a blogger who has overcome an eating disorder. 
And in 2015, in response to a controversial Victoria's Secret ad that defined what a "Perfect Body" was, the brand shot their own version, casting multiple body types as opposed to the one Victoria's Secret had flaunted.  
Torrid 
Torrid is one of the few brick-and-mortar plus-size retailers working to create stylish pieces that curvy women would actually want to wear. Last year, it teamed up with Rebel Wilson and, recently, it launched the #InMyJeans campaign with Orange Is the New Black's Adrienne C. Moore, Kwao, blogger Simone Mariposa and eight other diverse women. 
swimsuitsforall
Lately, more and more brands have been producing swimsuits for a range of sizes. One of these companies, swimsuitsforall, has collaborated with both Graham and GabiFresh. It also has been attempting to redefine the terms "sexy" and "bikini body" by casting a 56-year-old model and plus-size models flaunting their cellulite. 
See H&M and Target: It is in fact possible to both launch inclusive campaigns and sell the products that so many women are asking for and willing to purchase.