Man who attacked Gigi Hadid at Milan Fashion Week pens bizarre letter justifying actions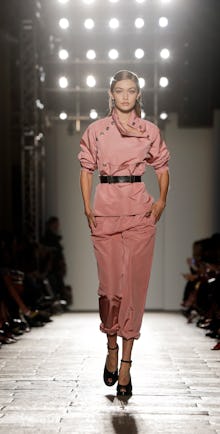 Gigi Hadid made her boxing coach proud on Thursday. After walking the runway for Max Mara's spring 2017 Milan Fashion Week show, the 21-year-old model went from taking photos with fans to having to elbow a complete stranger, later revealed to be notorious reporter Vitalii Sediuk, after he grabbed and picked her up. 
"Who the fuck are you, you piece of shit?" Hadid yelled before attempting to chase after him. 
Sediuk, as it turns out, is no stranger to courting such controversies. He was slapped by Will Smith in 2012, arrested for jumping on the Grammy stage before Adele accepted an award in 2013, punched and arrested in 2014 for attacking Brad Pitt and kicked by Kris Jenner after attempting to grab Kim Kardashian West — and these are just the times that celebrities fought back.
While it's likely that no one would laugh off being assaulted by a complete stranger, publications were quick to call Sediuk a "prankster" and say Hadid "lashed out." After seeing one of these headlines (that was later changed), specifically one from UK Sun, that said her self-defense wasn't "model behavior," Hadid took to Twitter to address the situation. 
"The actual fans that were there can tell you what happened," she wrote. "I'm a human being and had every right to defend myself. How dare that idiot think he has the right to manhandle a complete stranger." 
She continued, "Thanked my boxing coach today. Girls, prepare yourselves so that, if you ever feel in danger, muscle memory can fight back for you. Thank you all so much for [your] support." 
Later that day, Sediuk discussed the reasoning behind the attack on Instagram. "While I consider Gigi Hadid beautiful, she and her friend Kendall Jenner have nothing to do with high fashion," he wrote. He said his decision to grab Hadid in public was intended to "encourage [the] fashion industry to put true talents on the runway and Vogue covers instead of well-connected cute girls from Instagram. You can call it a manifest or a protest. This is also a wake-up call for Anna Wintour, who turned Vogue into [a] tabloid by putting Kardashians and other doubtful celebrities on a cover of a well-respected magazine."
But, clearly, none of these instances deterred Sediuk or made him think twice before attacking Hadid, something likely due to his definition of assault, which involves, as he explained in an email, "smashing someone's face or body on purpose." To him, what he did is equivalent to Ellen DeGeneres having a staff member jump up and surprise a celebrity on her show. 
"To offend someone is crossing the line," Sediuk said. "My purpose is to get [a] different reaction from a celebrity that viewers may have never seen before." 
Dediuk got that reaction by touching someone without their permission — a clear violation, but one he does not seem to understand as such. In a letter posted to his Instagram and shared with Mic, Sediuk explains "Why I think Gigi Hadid and Kendall Jenner are not supermodels — and what's wrong with fashion industry today."
Following is Mic's breakdown of this bizarre and quite dramatic letter. 
It's not easy to walk through Milan streets these days for me. Gigi Hadid is everywhere: on the trams, window shops, newsstands, etc. ... and her young, optimistic fans [are] calling me a "pedophile" on Instagram for lifting her up when I'm only 27 years old.
While "pedophile" and "lifting her" might not be the correct terms here, "attacker" and "assaulting her" seem to fit. An attacker who easily can look down if the sight of Hadid is so traumatic.  
It seems after Cara Delevingne partially left fashion for cinema (which was a wrong move, I think) Gigi took away her crown completely. After [the] encounter with Ms. Hadid at [the] Max Mara show in Milan, I expressed my opinion that, while I considered her beautiful, she and her friend Kendall Jenner had nothing to do with high fashion — more of Instagram fame. I still stand with my opinion despite the backlash. [The] prefix "super" to "model" means certain requirements.
Before we dive into these "requirements," it's important to note that there are many ways to express one's opinion that don't involve the crime of battery. 
When you go to [a] fashion agency, they [take] a photo of you at different angles with no makeup ... professional lights and other additional supplements that would help you stand out and cheat a little at [an] audition. Usually agents [are] looking for boys and girls with dramatic cheekbones, [and] edgy, almost scary face features to book them for campaign or runway. If Gigi and Kendall go to [a] high-profile agency in Paris or Milan without their surname, they would definitely not have passed through the first audition round. In Europe, those who represent fashion and make decisions are not shy in responses. The direct answer to you: "No," "You don't fit" is common, while in the United States people might be offended for hearing this directly in your face. There are other ways to get into this industry — fame and connections. While I have nothing against kids of rich and famous parents, when you come from such [an] environment, you have to work harder than anybody else to prove that you are not worse than those boys and girls who desperately wait for their audition rounds being hungry and sleepy (probably because they work at nighttime, somewhere at the bar, to pay their bills.)
The part where Sediuk says it doesn't hurt that Hadid and Jenner have famous parents might be the only sensible part of the letter.
While taking a look at Kendall Jenner's numerous photoshoots or runway appearances, I see the same face emotions all over again. She looks bored and completely uninterested. It seems she doesn't live it up and feel the moment. Modeling is also acting, where Madonna's "strike a pose," "express yourself," is not an empty sound. It seems Ms. Jenner has skipped those acting classes. She doesn't seem very much excited about her yet-another 'Vogue' cover — making it look like it's not a big deal [and] describing it simply on Instagram [as] "Spanish 'Vogue' October issue." It would be a big deal for someone who works half of his [or] her life to be on a [prestigious] cover. As for Gigi Hadid, she has a SWAG, but [it] still doesn't put you in a "supermodel" position. Wearing huge sunglasses that cover half of your face and expressing "I'm a bitch" emotion whenever you walk out from [a] public place makes you look rather not matured.
Once again, making the subjective assessment that Hadid and Jenner are terrible models — describing one as having an emotion-less face and the other resting bitch face — is not a valid excuse for harassment.
But there are models that you can learn from, especially how to walk the runways: Snejana Onopka and her "I don't give a fuck," Sasha Pivovarova, Rosie Huntington-Whiteley, Irina Kravchenko, etc. Both Gigi and Kendall depend much on their huge Instagram following, [which] makes it very attractive for fashion agencies to book them for bigger PR ... It's not a secret that nowadays you can buy followers, likes, comments, etc. ... Selena Gomez is reaching 100 million followers this week on Instagram. Does it make her voice sound better or help cement her status among the greatest artists? No. And if you pay close [attention] to hers or Kendall's [or] Gigi's Instagram following, you would find out that a large part of their followers are fake accounts. There are even programs and apps [on] the internet to identify that. Still, as for Selena, I consider her likable. There are of course other type of models that raise questions as well. Without any doubt, Irina Shayk is hot, but without high-profile boyfriends (who use her to hide their not-traditional orientation), she wouldn't be on the runways of Versace and Givenchy. I liked her on [the] cover of 'Sports Illustrated' though, where she advertised swimsuits. But Irina is not "haute couture" material.
Sediuk seems to be annoyed that Jenner and Hadid have more Instagram followers than he does, especially since they aren't "likable" like Selena Gomez or "hot" like Irina Shayk. 
Despite all, we should not blame them for being all over. The likes of fashion pioneers Anna Wintour, Karl Lagerfeld, Donatella Versace, Anna Della Russo or Carine Roitfeld (the one I made a selfie with for a reason) are responsible for letting these models to have prefix "super." Anna Wintour makes a poker face whenever she walks out from a fashion show or a public event, without liking to answer any questions, but when she put [the] Kardashians on the cover of [the] well-respected magazine 'Vogue,' she made a lot of people upset. And it's fair enough that they demand answers to certain questions. Her likability [of] egomaniac Kanye West also made people raise eyebrows. He is a talented musician, but fashion isn't his thing (by the way, his new song "Fade" is playing now in a cafe where I am writing this article. I think it's catchy.) Though 'Vogue' is not only about Wintour. Her [colleague] Anna Dello Russo, 'Vogue' Japan's editor in chief, made me ask a few questions as well. When does she find a time to write or edit articles, reviews on numerous collections, when she changes up to three outfits per day during fashion week and [poses] nonstop [for] street style photographers, pretending to be speaking on the phone all the time? There's nothing bad [about liking] attention, but when you occupy such a top fashion position, I bet you have a lot of work to do. She doesn't seem to spend a lot of time in Japan, either.
So, according to Sediuk, it's actually Anna Wintour, Karl Lagerfeld, Donatella Versace, Vogue Japan's Anna Della Russo and Carine Roitfeld that are to blame for his physical attack on Hadid — those are the people Hadid and her fans should be angry with, he says. Why? Because they're responsible for making Hadid a household name. (Stray observation: Sediuk also enjoys Kanye West's song "Fade.")
Fashion is all about "gang." Designers, models, fashion editors, agents: They are all friends [with] each other — partying, drinking, relaxing (Ibiza would be their favorite spot) ... they all do it together. Which means when one of them gives a green light to a certain model, [like] Kendall or Gigi, who don't deserve enough to be there, it means the rest of the "gang" will approve it as well. And when you call out one member of "gang" for being unprofessional, get ready for a blacklist. 
Newsflash: Fashion has always been an insider industry where who you know is often more beneficial than talent. 
P.S. As for [the] incident with Ms. Hadid, her kickboxing classes were on point. ;) Her tough elbowing kick broke my lip, but I don't complain. I started this ... and, Gigi, your boyfriend, Zayn, is lucky he was not there, because it would be yet another panic attack to him.
Making a mockery of someone's mental health issues is completely inappropriate. But then again, so is manhandling someone — so it's not like Sediuk is trying to show respect to anyone at this point.
It's unclear as to what Sediuk was "protesting" during his previous celebrity encounters, or how he constantly manages to get close enough to these celebrities to grab them, but one thing's for sure: He thinks his actions are sending some sort of important message to the world. In this case, the message Sediuk was sending — by physically assaulting someone — is that Hadid and Jenner are not that great at their day jobs and need title changes.