NYPD Officer Wayne Isaacs charged with second-degree murder in shooting of Delrawn Small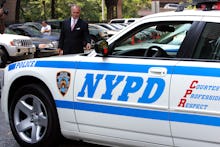 Wayne Isaacs, a New York City police officer who shot and killed an unarmed black man named Delrawn Small over the summer, has been charged with second-degree murder, NBC News reported.
Isaacs was off-duty when he killed 37-year-old Small, who he encountered following an apparent road rage incident in Brooklyn, New York, on July 4.
Isaacs, a three-year NYPD veteran, who is also black, is expected to appear in court Tuesday, his defense attorney Stephen Worth told the Associated Press.
On Monday, a grand jury in Brooklyn opted to indict Isaacs over the shooting, which was investigated by state Attorney General Eric Schneiderman. 
The case marks the first time an officer has been charged under a new policy requiring Schneiderman to act as a special prosecutor for all police killings of civilians in the state of New York, the New York Daily News reported.
The July 4 incident preceded two successive days of police-involved killings in other parts of the United States, including those resulting in the deaths of Alton Sterling in Baton Rouge, Louisiana, and Philando Castile in Falcon Heights, Minnesota, on July 5 and July 6, respectively.
Together, these incidents sparked weeks of protests, interspersed with the ambush slayings of police officers in Texas and Louisiana.
Delrawn Small was reportedly driving through Brooklyn to meet family members for an Independence Day celebration when Isaacs allegedly cut him off in a 2002 Nissan Altima. 
At a stoplight, Small exited his vehicle to argue to with the off-duty officer. Police initially said Small punched Isaacs multiple times in the face while the he was seated in his vehicle, prompting Isaacs to fire three point-blank shots at Small.
But security footage surfaced later showing Small getting shot the instant he reached Isaacs' car. Small's girlfriend, Zaquanna Albert, their infant son and at least one of Albert's two daughters, witnessed the entire encounter, according to media reports.
By the day Small was killed, more than 100 black men had been killed by police in the U.S. in 2016, according to the Counted, a database from the Guardian that tracks police killings.