Gigi Hadid offers powerful statement after attack making it clear she's no victim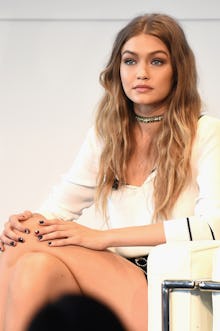 Gigi Hadid wants you to know she is not one to be messed with. 
On Thursday, without any hesitation, the 21-year-old model jabbed notorious celebrity "reporter" Vitalii Sediuk in the center of his face after he grabbed and lifted her off the ground outside the Max Mara spring 2017 Milan Fashion Week show. 
Instead of staying mum about the incident, Hadid has used the assault as an opportunity to empower people, specifically women, to defend themselves in similar situations. 
"I remember taking the time, as it all felt slo-mo, to look at him, a stranger, and my first reaction was: 'Get me out of this situation,'" Hadid wrote for Tuesday's Lenny Letter. "I played volleyball, and my coaches talked about muscle memory. I started boxing two years ago and I always remembered that."
"Since then, I hadn't been in a situation that forced me to fight back, but it just came out when he grabbed me," she added. "It wasn't a choice. I do have that fighter in me. Honestly, I felt I was in danger, and I had every right to react the way I did."
As Lenny Letter co-founder Lena Dunham explained, street harassment is an under-researched, but prevalent issue around the globe. According to a 2014 Gallup survey, 37% of American adults "would feel unsafe walking alone near their home at night." Which is one reason why it's so crucial for Hadid's young fans to see her reflex to being touched without offering permission to said stranger to do so.  
"If anything, I want girls to see the video and know that they have the right to fight back, too, if put in a similar situation."
"If anything, I want girls to see the video and know that they have the right to fight back, too, if put in a similar situation," she wrote. "Practicing self-defense is important so that when you're in the moment, reacting from muscle memory comes more naturally to you than freezing up. Confidence in your own ability to defend yourself comes with educating yourself about it, and is a massive advantage when in an unsafe situation."
Hadid said she does understand that there are people put in "much worse situations every day," and that these people might not have the protection of bodyguards, fans or social media support. But, above anything else, she said she hoped people would be inspired by her reaction.
"It sounds cliché to say it, but in the moment, it wasn't heroic to me," she wrote. "I just want to use what happened to me to show that it's everyone's right, and it can be empowering, to be able to defend yourself."