Here's everything to know about registering to vote in the November presidential election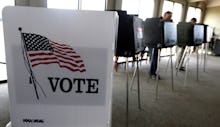 Tuesday marks National Voter Registration Day, the day that pro-civic engagement groups around the U.S. are trying to get people prepared for Election Day on Nov. 8.
Although Monday night's first-ever debate between Hillary Clinton and Donald Trump should have served as reminder to get registered, every election there are millions of eligible voters who don't cast ballots because they forget to register or miss their own state's registration deadline, according to the group Rock the Vote.
In most cases, voter registration is automatic for people who have recently signed up for a driver's license or state ID card. By law — the so-called "Motor Voter Act" — states must offer registration in DMV offices.
But if an eligible voter has moved or wishes to change party affiliation, doing so requires filing new forms with a local or state department of election. And there are a few ways to do that.
First, prospective voters should make sure the voter registration deadline has not passed in their state.
The U.S. Vote Foundation has compiled individual state registration deadline information for the general election.
Second, if getting to a local elections office is difficult, use Google to see if online registration is available.
By googling "national voter registration day," Google displays a module coded to correspond with instructions, requirements and deadlines for the user's state.
Third, if getting to a local elections office isn't difficult, find out what types of documentation are required for in-person registration.
The U.S. Vote Foundation also list those requirements here.
If eligible voters still manage to miss their state's deadline, same-day registration is available in some states on Election Day. This would require voters to vote by affidavit — the vote will be counted and included in the official tally when a state elections officials certifies that voter was eligible to vote.