Houston mall shooter carried Nazi emblems, authorities say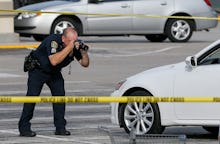 Nathan DeSai, the Texas attorney authorities suspect of wounding nine people in a gun rampage at a strip mall in southwest Houston before dying during a gunfight with police Monday, was dressed in military-style apparel and Nazi emblems both on his person and at his house, CNN reported Tuesday.
But Capt. D.W. Ready, a Houston Police Department spokesman, told CNN the suspect also had various military collector's items dating back to the Civil War in his residence, and was thus unwilling to speculate whether the Nazi emblems pointed toward an ideological motive for the crime. Acting Chief Martha Montalvo added that "at this point we are very open-minded as to the motive."
DeSai's name was reported by KTRK early Tuesday morning. The station additionally reported John Elmore, the property manager for DeSai's residence at the Oaks at West University, described DeSai's behavior as erratic and in one case perceived as threatening to contractors. DeSai's father, Prakash DeSai, told the station the attorney had been struggling since the dissolution of his 12-year partnership with another Houston-area lawyer in February.
Several high-profile mass shootings in recent years have been linked to far-right, white supremacist or neo-Nazi beliefs. Some of the most high-profile incidents include the deaths of three during a Nov. 27, 2015, mass shooting at a Planned Parenthood clinic in Colorado Springs, Colorado, perpetrated by anti-abortion activist Robert Lewis Dear Jr.; the massacre of nine African-American parishioners at Emanuel AME Church in Charleston, South Carolina, on June 17, 2015, by white supremacist Dylann Roof; and the murder of six at the Sikh Temple of Wisconsin in Oak Creek, Wisconsin, by white power musician Wade Michael Page on Aug. 5, 2012.
According to the Southern Poverty Law Center, a nonprofit that tracks hate groups throughout the United States, extremist organizations in the country have reversed declines in recent years, while data from the New America Foundation reported extremist attacks had killed more people (48) than Islamic extremist terrorists (45) in the 14-year period following 9/11 and the end of 2015.