Danielle Brooks of 'OITNB' calls out the beauty pressures curvy women of color face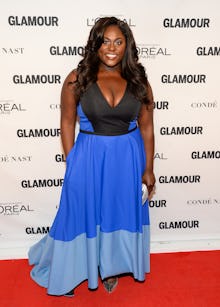 From starting the hashtag #VoiceOfTheCurves to partnering with plus-size retailer Lane Bryant and discussing the so-called "rules" curvy women are expected to follow in Hollywood, Danielle Brooks has made size inclusivity her platform. And her latest interview is no different. This time, the Orange Is the New Black star opened up about the societal expectations that curvy women of color continue to struggle with. 
"It's interesting because I think, in our community, it's more accepted to be bigger," she told Refinery29. "People don't really look at it as a size thing. It's more about curves — do you got a big butt, do you got nice hips, big hips? People are trying to have that Nicki Minaj, Kim Kardashian type of look." 
On top of the lack of representation in media and inclusion of plus-size women in the fashion industry, women of color are expected to be one particular type of curvy. 
"[Curves] in the right places," Brooks said. "Growing up, you wanted to look like the video girls because they had the small waist and the big butts ... I think it's more of a pressure for African American women to have a certain type of body shape ... It's deemed ok to be plus-size if it's in the right places."
Brooks further explained that this isn't a celebrity-only struggle or something that resulted when she became a successful actress. Instead, it's something she's dealt with since high school. 
"I've always had that experience of going to a store and thinking: There has to be something wrong with me for them to not have clothes that would fit me," she said. "For me it was like, 'Should my hair be curly, should it be straight? ... With my body, do I get smaller or do I get bigger? ... So that was my struggle: figuring out which box am I gonna put ... which box am I gonna allow other people to put me in." 
We are in the midst of a body positivity movement with plus-size models covering magazines, landing fashion campaigns and walking the runway alongside straight-sized models. And for Brooks, this visibility is a key way for her, and a myriad of other women, to feel more comfortable and confident with their own unique body shapes — whether the curves are in the "right" places or not. 
"Getting to see Gabifresh in a magazine in a bathing suit, in a two-piece, looking incredible, inspired me immediately to find one on some website and go pick it up and rock my curves when I go on vacation," she said. 
She continued, "I think visions are very important for us as women. To be ok with ourselves, so that when we do see ourselves in the mirror we aren't picking at ourselves and dimming our bodies down, but instead saying, 'Oh, let me see what outfit I can wear to enhance my stomach today, because I want to wear it out.' I think that is important."