After Alfred Olango, some say it's time to bring mental health into the policing debate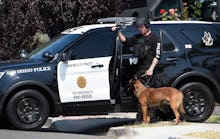 Brian Hullaby is a 35-year-old comic book reviewer living in New York City. At first glance, no one would know that he's an adult with high-functioning autism, he says.
That's why reports of Tuesday's fatal police shooting of unarmed black man Alfred Olango, described by family as "mentally ill," moved Hullaby to tweet out some perspective the next morning. 
"First, as a black man, I know that I'm seen as a threat to a lot of people." Hullaby said in a Wednesday interview. While autism spectrum disorders do not necessarily fall under the "mental illness" umbrella, Hullaby explained how his own condition makes it difficult for him to distinguish forcefully shouted commands versus calmly stated requests. As such, Hullaby said he worries about an increased danger of becoming a police brutality victim.
"Over the last two years, I've been a little more aware of the possibility that the police can misunderstand me or I can misunderstand them," he said.
Authorities have said Olango, who was killed by police in El Cajon, California, did not respond to repeated commands from officers. It's not known whether the officers had been trained to de-escalate in encounters with people with disabilities. In general, lack of training, coupled with overall stigma around mental illness and other disabilities, has contributed to what experts have called an epidemic of preventable police violence against people with disabilities.
"They almost happen on a weekly basis," Jay Ruderman, president of Boston-based disability advocacy group Ruderman Family Foundation, said in an interview Wednesday. "What we see, in tragedy after tragedy, is situations that could be de-escalated. I understand how difficult the job of the policeman and policewoman is, but sometimes people with a disability may react differently when they are confronted by someone who is an authority figure."
Such reactions can range from an individual pacing back and forth despite police instruction to stand still, to walking away from police, after being told to approach, Ruderman said.
Disabled individuals make up anywhere from a third to half of all people killed by law enforcement officers in the U.S., according to the Ruderman Foundation. In a report published in March, experts asserted that media outlets routinely fail to report if disability was a factor in use-of-force cases, whether or not the use of force was deemed illegal or within police policy.
But for the more than 18,000 law enforcement agencies across the nation, training for officers around mental illness is a patchwork. "We need more [mental health training] programs across the country," Ruderman said. "Disability has often been ignored and it's a major factor in why these cases are happening."
In El Cajon, a police official said Olango, described as an African-American in his 30s, refused multiple commands by an on-scene officer to remove his hands from his pockets. According to a Tuesday press release, the officer drew his firearm and pointed it at Olango when the man continued not to comply with instructions to show his hands.
Olango paced back and forth while officers tried to talk to him. Finally, when Olango "rapidly drew an object from his front pants pocket, placed both hands together and... [took] what appeared to be a shooting stance," police said multiple officers opened fire and deployed a stun gun. Olango died in a nearby hospital, according to media reports.
A family member who identified herself as Olango's sister said she had called police to get help for the man. "Oh my god, you killed my brother ... I just called for help and you killed him," she said over a live video feed broadcast on Facebook.
Olango's death is just the latest in a handful of such incidents that made national news and drew protests in the last year. Police in Charlotte, North Carolina, fatally shot Keith Lamont Scott on Sept. 20, in spite of his wife's pleas that he had a traumatic brain injury and may not respond quickly to their commands to drop a gun. In August, a deaf man, Daniel Harris, was killed after evading North Carolina state troopers in a high-speed chase — an incident his brother said was influenced by the man's fear after previous negative encounters with police. In July, Charles Kinsey, a behavioral therapist in Florida was shot in the leg while trying to protect his unarmed adult autistic patient from police, who mistook the patient's toy truck for a gun. 
Hullaby, the New York City writer with autism, said he does not believe that training police officers how to better handle citizens with mental illness would have saved all of those victims. Instead, he favors deploying mental health professionals with police "before any force is needed," he said.
Above all, Hullaby said he wants more done to address the stigma around mental health. Because he is high-functioning, he fears that police won't believe him if he informs them that he has autism. According to the World Health Organization, widespread misunderstanding of mental illness "can lead to abuse, rejection and isolation and exclude people from health care or support."
"I want the police officer to see a human being," he said. "I would like for them to talk to me like a person and realize that my disability doesn't make me a threat."