The 15 cheapest Kardashian/Jenner-approved beauty products — and the 2 most expensive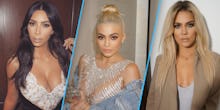 From pop star-fueled feuds to their sex lives, there isn't much the Kardashian-Jenner family stays mum about these days. One topic they enjoy broadcasting to their millions of followers, perhaps a little too often? Their beauty routines. 
Whether on Snapchat or their apps, most of the sisters have revealed the exact products they — or, well, their makeup artists  — use on a daily basis. And, unsurprisingly, these items add up to a good chunk of change. Take Kylie Jenner's everyday products. They'll cost you a little under $500. Or Kim Kardashian West's daily routine, which rings in at $770. 
But not every Kardashian-approved product is pricey. In fact, several are available at your local drugstore. If you'd like to have flawless skin like theirs (no promises here), or, are simply looking for new goodies to test, we dug through their social media sites, apps and interviews to round up 15 inexpensive products the ladies love. Here's to a beauty regimen that won't suck you dry.
Kendall
Kendall recently revealed to Allure that both she and Kim love Finesse's $3.79 shampoo. She also calls Neutrogena's $7.24 shower and bath gel a "bathtime essential" and divulged to InStyle that Shu Uemura's $20 eyelash curler is a staple in makeup bag. 
Kylie
In September 2015, Kylie told the New York Times that she uses Neutrogena's $6.99 Makeup Remover Cleansing Towelettes and Sally Hansen's $10.59 airbrush legs tanner. And in a post on her app, she chose CoverGirl's $7.99 Full Last Bloom mascara as one of her favorites. Kylie lashes for under eight bucks? Hallelujah.
Kourtney
Back in 2011, Kourtney told People that she applies Aquaphor all over her face. And just this past April, in an interview with Allure she named Kardashian Beauty's $14.99 Take 2 Dry Shampoo as her favorite item of the family's beauty line and said she, like her sis Kylie, uses a $20 beautyblender. 
Kim
In blogposts on her app, Kim explained that she often uses Rimmel's $6.29 Lasting Finish Foundation and opts for Maybelline's $7.49 Color Sensational Lip Color. She recently filmed a 10-minute long makeup tutorial where she said L'Oréal's $7.95 Voluminous Extra-Volume Collagen Mascara is her go-to. It sounds almost too good to be true.
Khloé
 Khloé explained on her app that she's a huge fan of drugstore mascaras. Her favorite? Maybelline's $7.77 Volum' Express the Falsies. As for her pick for moisturizer, she goes for Garnier's $5.99 Moisture Rescue Refreshing Gel-Cream. She also dedicated an entire blog entry to Makeup Revolution's $6 Vivid Baked Highlighter. Six. Dollars.
But, if you're looking to splurge in the name of beauty, you might consider the skincare brand La Mer, which the Kardashian-Jenner sisters adore. Kim's morning regimen involves its $310 moisturizing cream while Kylie uses the brand's $65 powder. 
And if you're feeling seriously lavish, be inspired by this: Kim starts her day with a $510 concentrate from Guerlain. Whether or not you'd be willing to shell out 500 smackers to fight wrinkles is up to you, but we can think of a lot more fun things to do with all that dough.