iPhone 7 Plus camera glitch: 4 photos reveal the big problem with portrait mode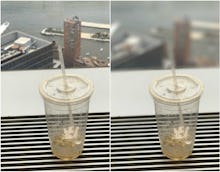 The iPhone 7 Plus features the most advanced camera in Apple's history, but its coolest feature is also the one causing the most problems.
The larger of the two new iPhones has a dual-lens camera and a portrait mode that creates images with depth of field. When the feature works, the results are gorgeous. The blurred background makes the photos look high quality to the untrained eye. But because that depth of field effect is digitally applied, it screws up sometimes and makes your photos look really absurd. 
Take, for instance, this photo we took of a jar. The depth of field is rendered incorrectly and the jar itself is blurry. The iPhone 7 Plus saves both the original photo and the portrait mode photo when you're using that feature, so here are both versions, to compare: 
The camera didn't recognize the top half of the straw in the photo below, so it was blurred out, too.
These photos are pretty bad, but portrait mode is part of iOS 10.1, which is still in beta, so hopefully it will improve over time. Still, as good as the iPhone's camera gets, it will never replace a real camera.