Solange's black New Orleans has always fought for 'A Seat at the Table'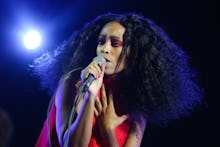 New Orleans, since its inception, has always been a city of oppression and opulence. That's not necessarily unique for an American metropolis: There are tent cities not far from the glamour of San Francisco's most recognizable tech offices, and lower Manhattan is built atop an African burial ground filled with enslaved workers who laid the foundations of American capitalism. 
But still, there's something unique about New Orleans. The line separating those who are free from those who are not has always been perilously thin. That line has often been colored by race, categories as malleable as the soil of the Delta in late August. Death is always nearby, lurking at the other end of a gun or in the wrong ward during a hurricane. But so too are celebrations of life — the prospect of it, the improbability of it.
These contradictions drive Solange Knowles' latest offering A Seat at the Table, released Friday. Knowles was raised in Houston, Texas, but her fascination with New Orleans drew her to move years ago. "It is also one of those things you can't put into words," she told Vogue of the city in February of this year. "You can't really put your finger on what is so magical about it." A Seat at the Table, seems to try.
The album is largely a 21-song salute to the city that's long been fighting and clawing its way to the table of American cultural and political power, in ways that were overlooked or shunned outright by others. Her songs are steeped in the language and aims of the Black Lives Matter movement. Her lyrics make many of the movement's painstakingly simple declarations that black people have not only the right to live, but the right, and responsibility, to govern how those lives are lived.
The album comes amid a stream of other offerings by black artists — Kendrick Lamar, D'Angelo, J. Cole, Jamila Woods, Chance the Rapper, Solange's older sister, Beyoncé — grappling with what it means to be black in the United States during this political moment. Solange's new album flips this trend somewhat, insisting that generations of black artists — specifically New Orleans artists — have made this call, and the culture is only now really listening.
She offers a spot to Lil Wayne, a product of New Orleans' Hollygrove. The child star shot to fame at 15 years old with Hot Boys and immortalized himself in a verse that's about getting the very best blowjob imaginable. Now, he raps on Solange's track "Mad" about having to carry a family and community and city on his back, and how the strain became too much and nearly crushed him. And, though he may say in interviews that he's never experienced racism, he's talks about its trappings on the album: "Then I walk up in the bank, pants sagging down," he raps. "And I laugh at frowns what they mad about/ Cause here come this motherfucker with this mass account/ That didn't wear cap and gown." Sure, he's mad, but he doesn't carry that burden alone. That's black resistance.
And there's Master P, another 1990s New Orleans icon, offering an interlude in "For Us by Us" about building his own music and fashion empire. It ends with him going to the white lady's house where his grandmother lived and worked, saying: "You don't have to work here no more." In the interlude "No Limits" he said that he took the imagery and style for No Limit Records from his grandfather's stories about being discriminated against in the military and encouraging his son to build his own army. That's black resistance, too.
And lest you think that the Knowles family's political awakening happened on stage at the 2014 MTV Video Music Awards, there's Mama Tina, whose family has Louisiana roots, offering up a small sample of the way she raised her two children on the interlude "Tina Taught Me": "There's so much beauty in being black," she says. "It really saddens me when we're not allowed to express that pride in being black."
There is no one way to express black rage, or beauty, in this country, just as there is no one way to be black. What Solange's new album does is stake New Orleans' claim in today's embrace of it. We're here, she's saying. And we've always been here.