Watch Donald Trump defend his Mexican "rapists" speech in newly released deposition video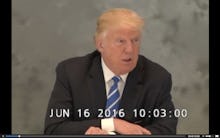 Video of Donald Trump defending his incendiary comments about Mexican immigrants being "rapists" who bring "crime" surfaced Friday, BuzzFeed News reported, creating yet another distraction for the Republican presidential nominee in what's been a week-long headache.
The video is of a sworn deposition Trump gave in a lawsuit against a celebrity chef, Geoffrey Zakarian, who pulled out of an agreement to open a restaurant at the Trump International Hotel in Washington, D.C., citing Trump's inflammatory comments about Mexicans.
In the two hours of sworn testimony, Trump said he planned to call Mexican rapists before his announcement speech in June 2015, but did not pre-write the exact words he used.
He also admitted the remarks may have lost him business.
Still, Trump said he said he stood by the comments, as it helped him win the GOP nomination.
"I've tapped into something," Trump said of his comments on Mexicans in the video-taped deposition. "When you get more votes than anyone in the history of the party ... by far, more than Ronald Reagan, more than Richard Nixon, more than Dwight D. Eisenhower — who won the second world war — you know that's pretty mainstream when you think about it."
The Trump in the video deposition was the same Trump who appears on the campaign trail.
He boasted about his poll numbers, talked about winning the most votes of any GOP nominee and talked up his hotel as one of the best hotels.
"I obviously have credibility because I now, as it turns out, became the Republican nominee running against, we have a total of 17 people that were mostly Senators and governors, highly respected people," Trump said in the deposition, not understanding why Zakarian would want to terminate the relationship with Trump and his D.C. hotel. "So it's not like, you know, like I've said anything that could be so bad. Because if I said something that was so bad, they wouldn't have had me to through all of these people and win all of these primary races."
Text transcripts of the deposition had already been made public.
But Trump's lawyers attempted to keep the video private, saying clips could be used against Trump in campaign attack ads, Politico reported.
You can watch the entirety of the two-hour-long deposition here.
Mic has ongoing presidential coverage. Please follow our main election hub as well as coverage of Donald Trump and Hillary Clinton.