Solange Knowles shares intimate race relations talk to accompany 'A Seat at the Table'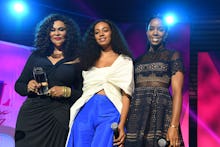 On Friday, Solange Knowles released her most mature and socially conscious album to date, A Seat at the Table, focusing on black beauty and race relations in America. The project is essentially an invitation to take a seat at the Knowles' dinner table as the famed musical family discusses their past, their present identities and what's in store for the future. 
But just in case Solange's confessional poetry didn't provide enough of a window into her life, on the eve of A Seat at the Table's release, the modern R&B singer sat down with her mother, Tina Lawson, and writer Judnick Mayard for an intimate conversation, which was published Friday morning by Saint Heron. 
"I would hope that people would hear this record and recognize my truth and respect my truth, even if it isn't exactly their truth, in order to allow me to have the space to expand in my evolution," Solange said.
The three women discussed just about everything that went into creating Solange's unapologetically black album, from her family roots in Louisiana, to the stigmas black women face when wearing their hair naturally. Much like the album's title, the three expressed their candid viewpoints from their seats at the table, which Mayard described as a "unifier of where family comes to talk and share over the bounty of what has been earned that day."
"We grew up very pro-Black," Solange continued, responding to a question her mother posed as to whether she was afraid of being "written off as an angry Black woman" with A Seat at the Table. 
"We grew up in a household with two parents who constantly celebrated Blackness and created forums and spaces to empower Black communities," Solange said. "This might feel new for other people, but it is surely not new for me."
Unlike some of her previous albums — especially debut Solo Star and its long-awaited follow up Sol-Angel and the Hadley St. Dreams — Solange's latest album is a far cry from dance music and club vibes. Instead, A Seat At the Table focuses on the tough conversations families like the Knowles have around the dinner table in the face of the ever-growing body of evidence supporting systemic racial inequality in this country.
"I think that A Seat At the Table for me is an invitation to allow folks to pull up a chair, get very close and have these hard uncomfortable truths be shared," Solange continued. "It's not going to be pretty, it's not going to be fun, you may not get to dance to it, you're not going to breathe easily through it, but that is the state of the times that we're in right now. It's my invitation to actually open up those doors and to have that voice, get messy and lay out my truths and stand firm in them."
Read the full interview here.