Police will release the full video of Keith Lamont Scott's fatal shooting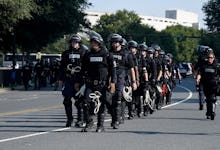 Charlotte-Mecklenburg Police say they will release the full dash cam and body cam video footage of the fatal shooting of Keith Lamont Scott next week, according to WCNC. 
Scott's family requested to see the footage in its entirety and then have it released to the public. The CMPD has agreed to the family's request, and said they will release both videos next week after Scott's family has viewed them, WCNC reported.
Scott, a 43-year-old black man, was fatally shot on Sept. 20. Police officers say they shot Scott because he was holding a firearm and "posed an imminent deadly threat to the officers, who subsequently fired their weapon striking the subject." 
Scott's family said he was unarmed. 
The CMPD has already released partial video footage of the confrontation that does not definitively show Scott pointing a firearm at police. In the video, Keith Scott's wife, Rakeyia Scott, can be heard repeatedly shouting that her husband does not have a gun and urging police not to shoot him.
(Editor's note: This video contains disturbing footage. View with discretion.)
Brentley Vinson, the CMPD officer who shot and killed Scott, was in plainclothes during the incident and was not wearing a body camera. But other officers present were wearing body cameras, officials said during a press conference on Sept. 22.
Scott's shooting sparked both peaceful protests and more violent reactions across North Carolina.