Gun violence isn't driving young voters of color to the polls — economic insecurity is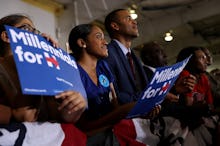 Contrary to Donald Trump's claims that black and Latino people are "living in hell" due to unfettered gun violence that he's uniquely positioned to curb, it's not guns that are driving young people of color to the polls this November. It's the economy — and most of these voters think Hillary Clinton is the best-equipped presidential candidate to fix it.
For much of the current election cycle, black millennials in particular have been characterized as disaffected, beleaguered by issues like police violence and fed up with electoral politics altogether. Will they abstain from the election? Or, against the admonitions of older influential voices like New York Times columnist Charles M. Blow, cast a protest vote for a long-shot third party candidate?
A majority of young black voters will, in fact, vote for Clinton, according to a new poll conducted by GenForward and Black Youth Project. Of the 1,851 young people of color polled for the survey, 55% of African-Americans said they planned to vote for Clinton, compared to 52% of Asian Americans and 43% of Latinos.
Third party candidates like Jill Stein and Gary Johnson are less appealing to young voters of color than to their white counterparts, according to the report.
"Our findings suggest that third-party candidates have only a limited appeal to millennials, and to the extent that these candidates are popular, it is mostly among young whites and possibly in a few distinct swing states like Colorado," researchers wrote.
The poll also honed in on the issues driving young people of color to the polls, the top three being student debt, wages and income inequality. Perhaps unsurprisingly, they find themselves on less steady financial footing than their white peers: 57% of African-Americans, 59% of Asian-Americans and 57% of Latinos worry about someone in their household being laid off from work, compared to 41 % of whites. Forty-eight percent of African-Americans, meanwhile, reported facing discrimination based on their race while looking for a job.
In previous polls, police and gun violence were shown to be important issues to young voters of color. But this new data explores in greater depth how uniquely important economic equity is to millennials. 
"Our survey identifies an economic vulnerability gap between young adults of color and young whites which reveals the challenges young adults of color face in the economy," researchers wrote. "We present data on these and a host of other issues to bring the views of young adults into these debates."